Mum-of-One, Sonia Ogbonna Talks Tough On How Society Coerces Women To Surrender To Abuse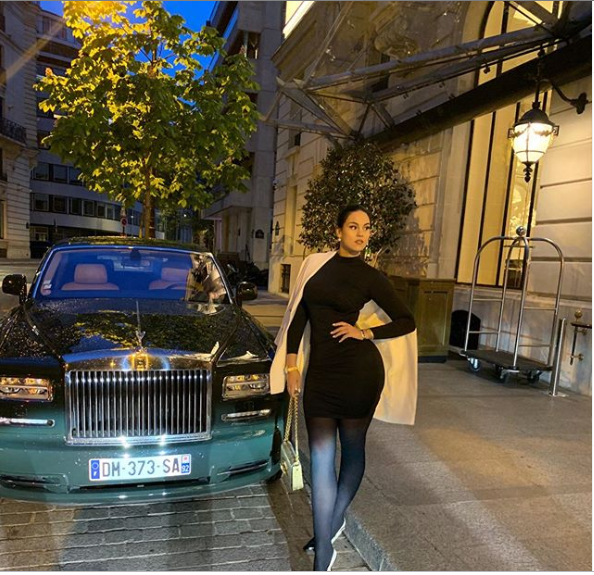 Mum-of-one, Sonia Ogbonna, who is also the wife of Nollywood actor, IK Ogbonna, has taken to her Instagram account to educate people who criticise women for publicly acknowledging their predicaments. Sonia is known to give really deep insights on relationship matters and she's often spot on. This time the mum-of-one addressed the privilege that men typically enjoy, and said even though some of them are amazing, a good portion of them are abusive and do very well at driving the women in their lives crazy behind closed doors, and then leave them to the public to finish off; calling them 'crazy', because again men know they can ALWAYS count on society to favour them.
READ ALSO: "Your Wife Loves You Forever" – Sonia Ogbonna Pens Moving Message to Hubby as He Marks Birthday
Sonia's lengthy post may not be unrelated to recent outbursts  by Nollywood actress Tonto Dikeh, who has been granting interviews and using her social media to attack her estranged husband, who she claims put her through untold hardship but pretends to be a good person in the face of the society.
As Tonto continued to lash out at her ex, a number of celebrities and regular folks have faulted her behaviour, claiming that she is without decorum and is a bad woman, even though she insists, she's hurt and will not stop telling about her bitter experiences in her less than 1 year marriage.
READ ALSO: Mom-Of-1 And Wife Of Nollywood Actor, IK Ogbonna, Sonia Morales Demystifies Depression And It Is Spot-On
Sonia probably identifies with the actress and has addressed how men bank on society's approval as well as entrenchment of patriarchy to silence women and force them to surrender to years of mental and sometimes physical abuse.
She identified the many flaws in how society pushes women up against the wall and manipulate them with phrases like "No marriage is perfect", "Go back and fix your home" among others.
Read all she had to say below:
READ ALSO: Nollywood Actor, IK Ogbonna's Wife, Sonia Morales Ogbonna Talks Tough On Relationships And It Is Controversial
It mostly applies on men, not because "men are evil beings " (trust me there are some amazing guys out there) but simply because men know society will ALWAYS favor them .

A woman can be mentally & physically abused for years and be blamed for what she is facing at the same dame time! WILL YOU NOT GO CRAZY??! If she tries to leave, they will shout "go back & fix your home". Back where?! And who will fix the broken you? Some even justify violence and acts of criminal offenses with "no marriage is perfect" .. are you people ok?

Many guys don't even bother being better men to their women because they were taught that women HAVE NO CHOICE & culture and society makes our voices meaningless (we almost labeled as mad, delusional, bad, senseless and crazy when we try to stand for ourselves) and our pain is absolutely normalized, you suffer in silence and on your own while smiling on the outside (if your own mother tells you "go back & pray harder", who you really get support from?).

No matter situation , no matter what you put her through , its woman's fault & she "caused it"… right? …. OK…….Then all of a sudden ….there goes SOCIAL MEDIA… A voice to voiceless LOL .

A platform where people realize that they are not alone in what they are facing.. a platform where women unite & support one another. Ranting is too much? Trust me, I don't believe in confession of negativity in any way, but you have to understand that rantings u hear are nothing comparing to what we go through.

Do u have an idea how it feels like to be a female in this society? Oppressed left right and center with idiotic, unrealistic expectations towards us where a "good woman" is almost literally defined as supernatural slave. But that's none of your problems.

However, out of the sudden, SOCIAL MEDIA got y'all in your feelings, shaking & praying for "good women" ???? Out of the sudden, yall have opinions .

Things are about to change for good so I advise: stop living in your grandparents era and try & be ( or learn how to be) a GOOD MAN first and trust me, no lady will ever have an emotional need to heal through social media rantings & best believe yall safe . #sonialareinaa
See original post below:
https://www.instagram.com/p/BxHk_s5nXoQ/