Meet 24-Year-Old Female Barber, Gift David Who Is Inspiring Others Through Her Story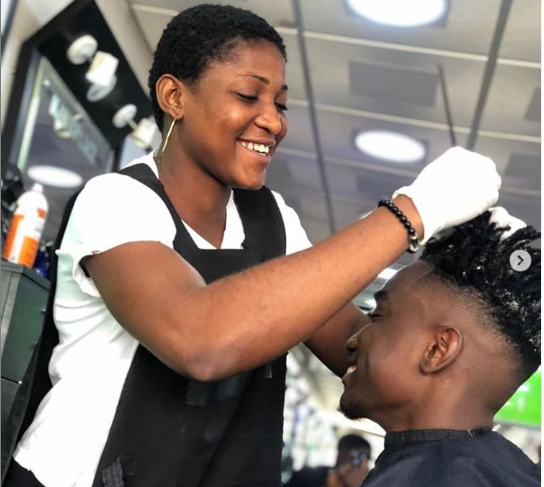 https://www.instagram.com/p/BwB6ZqOhlIo/
Gift David is a female barber who is rising from the ashes of adversity and inspiring others to do so through her story.
The 24-year-old coining her own narrative in a profession dominated by men continues to inspire many especially young girls that they can rise above social constructs to achieve whatever they dream of becoming.
In an interview with BBC, the part-time mass communication student recounts her determination and how she convinced male customers that she is good at her job. She also talks about how she aspires to be one of the most celebrated female barber in Nigeria.
Gifty's plan after secondary school was to work and gather some money in preparation for university. So, she got a job as a cleaner, but by the time she's done with her work, she still has enough time to do other things.
So, rather than go home and be idle, she decided to learn barbing. In one year and six months, Gift became a professional and is able to handle a clipper with zero supervision. The Akwa-Ibom born barber says:
READ ALSO: Meet Nigeria's First Lady Mechanic, Sandra Aguebor
"I can't really say because it was not planned.. as at the time, I usually pass time in a barbershop, so I thought, it won't be nice just sitting here without helping out. So I started helping out by washing customers' hair and applying aftershave.I started finding it interesting and wanted to do more, that was how it began."
About balancing school and work, Gift said it has not been easy. She said:
"Combining school and work is really not easy, it can be extremely stressful and tiring but it's worth it.. when I'm at work, it's all about work but whenever it's time for school and studying, it's a very important time that I try to make sure every minute counts.. still pushing it."'
About the challenges of being a female barber, she said:
"The harsh reality is that, no matter how good you are, there are people who will not take you seriously because of your gender. I have had customers who won't allow me touch their hair because I'm a woman."
READ ALSO: Female Seafarers Tell How They Fare And The Various Challenges They Face On The Job
Watch below…