From Multiple Plastic Surgeries After Childbirth To How Things Went Sour Between Her & The Kardashian Family | See Blac Chyna's Tell-all Interview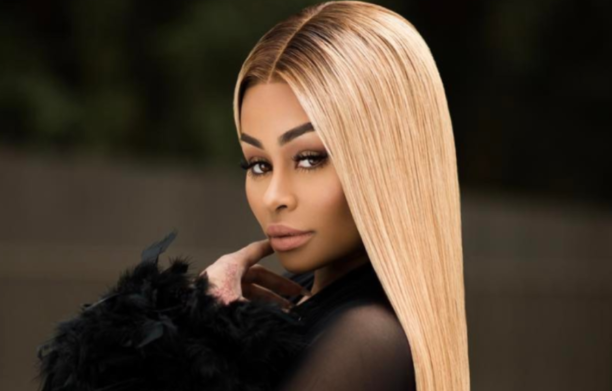 Reality TV star and model mom, Blac Chyna sat with TV host Wendy Williams in a tell-all interview in which she candidly talked about her multiple plastic surgeries, her relationship with members of her exes family and how she began dating the only son in the Kardashian family, Rob Kardashian.
Chyna, 31, used to date rapper, Tyga and has a 6-year-old son with him. She was also best friends with Kim Kardashian. Then things went south between Chyna and the family when Kim's younger sister, Kylie Jenner began dating Chyna's baby daddy, Tyga.
Chyna confirmed that Tyga never cheated on her, but said "something did kind of expedite" their breakup, referencing Kylie. She told Wendy:
"Tyga started dating Kylie. After that happened, that's when, of course, the family kind of like, 'all right, well bye, girl' and threw me underneath the bus.
Speaking further, Chyna said that she knew things were official between Tyga and Kylie when she got "kicked out of his house."
READ ALSO: Rob & Blac Chyna Social Media Saga: Kardashian Family and Blac Chyna's Mum Share their Thoughts
At this point, Tyga and Kylie took their relationship public and Chyna admitted she was hurt. This was before she started a relationship with Kylie's big brother, Rob, got engaged to him, and even had a baby girl, Dream Kardashian with him.
Despite all that happened with Tyga and Kylie, Chyna said she hopes to remain on good terms with Kylie because she's her daughter's aunt. She said:
"You know, that is Dreamy's auntie. And when me and Robert were together, we kind of put those differences aside. From now on, I'm fine on my side and I'm hoping that we're good."
Speaking on how her relationship with Rob Kardashian began, Chyna made it clear she didn't pair up with him to get back at Kylie and Tyga. She said:
"It didn't happen that way — definitely didn't happen that way. After all that stuff, the turmoil and whatnot, Robert, he was hitting me up on Instagram all the time and I thought it was a set up. Like, they're trying to set me up to go with the brother — I'm not falling for that.

So then New Year's, I was [hosting a party in] Little Rock, Arkansas, and I was like, 'You know what? I'm out here by myself, let me just call this boy.' Because he was on my mind.

I talked to Rob on the phone for like, maybe three or four hours. I was like, 'Look, when I come back to L.A., I'm just going to help you out and take everything I know and just build you up and we'll figure it out from there.' … I met up with him, I went to Khloé's house at the time.

It was just us two and basically like, it was just a connection right then and there. … He had moved in with me and from there we started losing the weight, he cut his hair."
READ ALSO: Rob Kardashian & Kylie Jenner Sue Blac Chyna For Battery, Assault and Vandalism
Chyna also opened up about having multiple plastic surgeries. When asked by Wendy Williams if her butt is "natural," Chyna, whose real name is Angela Renee White, admitted that she had "something done" after the birth of her daughter in November 2016. She confesses:
"I went and got something done. I got lipo, because after I had Dream, it was, like, out of control. So I had some of it taken out."
Chyna was also very open about the four breast enhancement procedures she's had done. She added:
"I've had lipo before, I've had my breasts done four times. I went larger, larger then I went smaller. I felt like it was, this is just too much."
In addition, the model revealed that her dimples are not natural and happened after she got piercings in her cheeks. "When I took them out I was like, 'Oh, man, now I got dimples!'" she shared.
Few days ago, Chyna revealed that people never get told her about the dangers of plastic surgery. She revealed how she discovered that it comes with it's own pains:
"I'm standing up because I cannot sit down. So, I did not know that if you got a BBL, you couldn't sit on your butt for, like- well, on the paper, it says two weeks. But yesterday was my one week post-op check-up and the doctor told me he wants me to wait as long as I can for six weeks.

Everywhere I've been going y'all, I've been sitting on my knees backwards, like facing the back of the window! When I go to meetings- I went to a Spotify meeting, Snapchat, Twitter meetings- I had to sit in all those meetings on my knees in the chair backwards!"
SEE ALSO: American Model, Blac Chyna Reflects On Difficult Moments From Her Past: 'I've been humiliated & discredited as a mom'
Viewers took to social media after the show to commend Chyna for her honesty and the way she gave genuine answers to each question Wendy asked.
Watch the video below…