Precious Fani-Kayode Reveals Why She Delayed The Birth Of Her Triplets Against Doctor's Warning
It is a quadruple celebration for wife of former Minister of Aviation, Femi Fani -Kayode, as she and her triplets share the same birthdays on, 25th of May.
Precious Chikwendu Fani Kayode who turned 30, while her boys, Ragnar, Aiden and Liam are turned 1, took to Instagram to share a stunning Egyptian themed photo shoot with the boys and wrote;
"Dear Ragnar Just to let you know how sweet,loving and engaging you are. I love our noisy hyper moments each time I walk into the room after some moments of being away, the way you study my face like you were warming up for an exam looking deeply into my my eyes with your piercings big eyes, the way you insist on being the first one I must touch each time I come around, the way you light up when I smile, the way you dance to whatever song I sing.

You define the word sweet , just to let you know you've made my life more beautiful than it was before you came. Happy birthday Alexander Olusegun Okunade Ikenna Ragnar Fani kayode

Dear Aiden Thank you for wiping my tears . You came looking exactly like mom, with her birth patches in same spots,smile like her as gentle and also tough like her, everything about you speaks of her. I'm grateful God gave me you to be my peace.

I couldn't bear looking at you the first 3 month but now I cant do without your smile, you are everything amazing you are big,bold and hilarious. I love you son and so grateful to be called your mama. Happy birthday Daniel Olumide Jidenna Benaniah Aiden Fani kayode.

Dearest Liam My oxygen,ginger bread, LOM, the one that calls me 'my Bebe' . You are my baby of the house but the one who understands my blinks. I tell myself I have to remain impartial with the 3 of you but with you being impartial is impossible.

My small but mighty I cant wait to see you all grow Into Gods perfect design, you make never want to leave your sight, you are the defender of the 3 and defender of the clan. You are unique and rare. I celebrate you Micheal Oluwanifemi Tobenna Jehu Liam Fani kayode. Happy birthday my lovely sons. #motherslove #birthdayspeech #firstbirthday #triplets #tripletsbirthday #fanikayodetriplets #fanikayodetrietsat1."
READ ALSO: How FFK Stood By His Wife While Birthing Their Triplets (Photos)
Meanwhile, in a telephone interview with Punch, Precious, who already has a son with her husband revealed that she actually delayed her childbirth so that it could coincide with her birthday even though her doctors frowned on the decision.
"I feel good, happy and fulfilled. I am turning 30 and I have accomplished most of what I planned to do before clocking 30. As for the rest, it is left to God. So far so good, I have done most of what I'd like to do.

I have triplets and I was meant to have them earlier than I did but I tried so hard to carry them until the day I gave birth to them. Even though the doctors warned that it was not healthy for me to do that, I fought so hard and to God be the glory, I had my children.

I did not have any problems for carrying them that long because I was meant to have given birth to them a month before I did. I tried to be so strong like a Hebrew woman and to God's glory, it happened."​
The mom-of-4 admitted that it was not easy going through with her decision but she knew she had to be strong like a Hebrew woman. She added: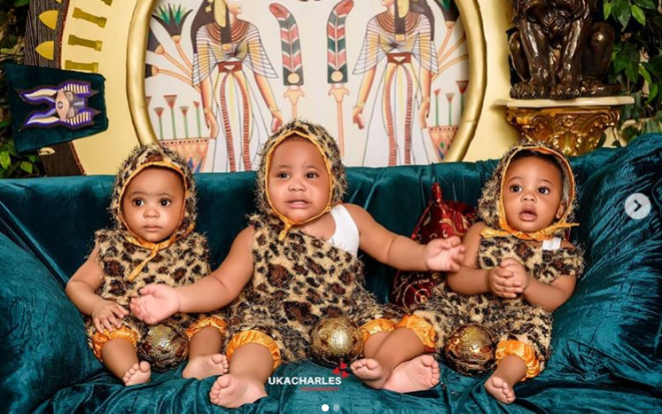 "It was not easy to do what I did and there were days that I felt like cutting myself open and bringing them out myself but I had to be strong. Every woman has an inner strength that she does not know she has on her own. That strength came to play and to God's glory, everything worked out fine."
READ ALSO: This One Thing Is Not Within The Rights Of Mothers, Former Aviation Minister, Femi Fani Kayode Opines
However, taking a trip down memory lane, she identified one of the toughest moments of her life as the period after childbirth, especially as her mother died before she put to bed. Precious further revealed:
"The period after I gave birth to them was the toughest time of my life considering that I lost my mother a month before my babies were born. There were days when I really cried because I did not have anyone around that understood the exact situation I was going through.

I needed someone that understood motherhood more than I did but my mother was not there. I had to go through the challenges alone, except for my husband who was always there to pamper me and make sure that I was alright throughout the period. But such is life and I knew that I had to be strong for my family and God gave me the strength."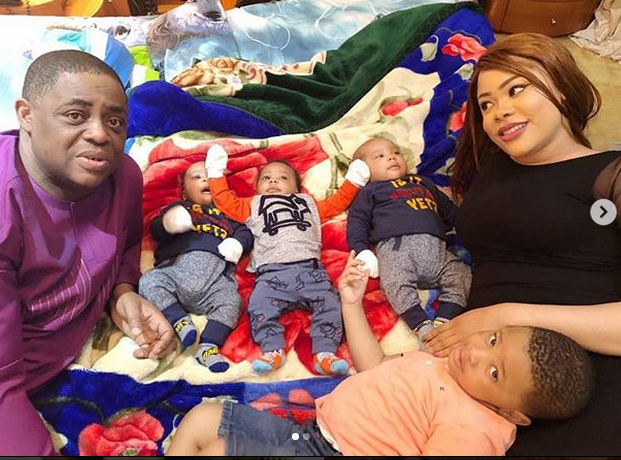 She was, however, quick to share tips that helped her get back in shape, adding that she was done with childbearing even though her husband would like female children. She said,
"It was easy for me to get back to shape because I am conscious of what I eat and the time I eat. Also, given that I am a model, it was easy for me.

Also after childbirth, I did not really have appetite so it helped a lot. I am done with childbirth even though my husband does not agree as he wants some beautiful girls, but this is where I have to end this journey."
READ ALSO: Read Femi Fani-Kayode's Romantic Poem To His Wife, Precious Chikwendu
Precious noted that since her children are now a year old, she's ready to return to her acting career.
"I have not quit my acting career. I was working on going back into the movie industry when the triplets came so I had to wait to nurse them but now that they are a year old, I am ready to go back to work and continue everything I wanted to do.

I would be able to continue my career without much stress because once you have love and passion for something; you would ensure you do it. For me, fulfillment and happiness are important."
FFK has three female children with his former wives while Aragorn, a boy and the triplets are his children with Precious.