Single Mum And Blogger, Blessing Okoro, Caught And Humiliated In A Bad Case Of Image Laundering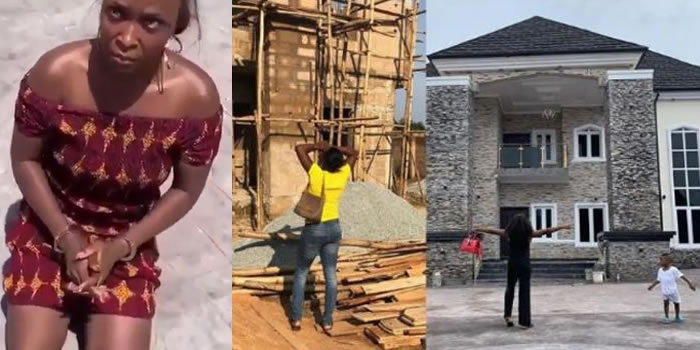 https://www.instagram.com/p/ByDItWngDtp/
Last week, we happily reported the news of a single mum and relationship blogger, Blessing Okoro who claimed to be marking her 30th birthday, eight (8) years after her husband drove her out of their shared one room apartment. According to the single mum-of-two, God turned the shame of those years to joy for her, as she showed off a 7-bedroom mansion which she said was her 30th birthday gift to herself.
Her grass to grace story resonated with many people, but it turned out the single mum was merely keeping up appearances and lying without provocation.
Her cover was blown when the real owner of the house, a Nigerian businessman who is for the better part based in China saw pictures of his house and reached out to her to renounce her claims to his property.
READ ALSO: Fans Blast Nollywood Mum Oge Okoye for Her Alleged Dishonesty on Instagram
The man later identified as Onye Eze called the blogger out on social media but for reasons that are not obvious, the mum-of-two was determined to aggressively defend her lies. She went ahead to take more pictures in the house after paying the gateman to let her in for some more photos, including brazenly showing a building plan to further convince observers that the house was hers.
The real owner of the house Eze, was obviously taken aback and went ahead to release more proof to counter the blogger's claims. Shortly after Eze shared a photo of his building plan, an audio conversation was released by the blogger's friend, where Blessing admitted to faking ownership of the house.
But before then, Mr. Eze had had the blogger arrested and handcuffed with the aid of some mobile police officers who made her kneel and answer questions regarding her claims. The single mum was seen in the viral video to be sober while admitting that she lied and the house, in fact, belongs to Mr. Eze but she had taken pictures in it and passed it off as hers because she hoped to build a replica of it.
READ ALSO: BBNaija: "She's a big liar and cheat," Alleged Cousin of Gifty's Husband Shares her Dirty Secrets| Releases their Wedding Photos Online
She would later put up another act, that caused online users to tag her with the saying "you cannot shame the shameless" after she posted a video post the humiliation she suffered at the hands of the house owner and mobile police officers who put her in cuffs. In the new video, shared few hours after the humiliation, she ridiculously told her followers not to bother about a thing, as the matter would die a natural death and people will forget it, adding that it was quite normal too.
Later that day, another video made rounds showing a reconciliation had taken place between Blessing and Mr. Eze, the two were seen sharing a bottle of wine at Mr. Eze's house but the damage had been done, Ms. Okoro had been exposed as fake and that would hurt her relationship coaching brand, so she came up with another narrative.
She made another video of where she claimed she made those earlier confessions under duress and is now threatened suicide because she would not be able to face the shame of it all, but first, the world had to know that Mr.Eze took laws into his hands by tricking her into his house, and having her humiliated by mobile police men who had guns.
The real issue is there was no obvious reason why the mum-of-two had to lie that she had built herself a big mansion. The irony of her post is that her insincerity would have caused many honest living persons to feel inadequate and yearn for more.
See videos of Blessing through her ordeals below: