VP Yemi Osinbajo Lauds Wife, Dolapo Osinbajo In Beautiful Twitter Post
Vice President of Nigeria, Yemi Osinbajo has showered encomiums on his wife, Dolapo Osinbajo for being his rock and standing by him through his first term in office.
As he assumed office for a second term yesterday May 29th, Professor Osinbajo shared a photo of his wife and himself on his Twitter handle and thanked her for being a solid support system throughout his first term. He added that he is ready to continue to serve the country with her by his side.
Osinbajo, who took the oath of office for a second term in office on Wednesday in Abuja, had his wife by his side during the ceremony.
READ ALSO: "The Fake News That Recently Put Me In Trouble With My Wife." -VP, Yemi Osinbajo
In the tweet, the professor of Law wrote:
"My dear Dolapo, Thank you for years past. Thank you especially for the last four years. You are my rock. And with you by my side, I am ready for the next four years of service."
Prof. Osinbajo got married to Dolapo in 1989. The couple who will be celebrating 30 years in marriage in November are blessed with three children.
READ ALSO: "I Still Scold Him" – Yemi Osinbajo's Mum, Olubisi Osinbanjo, on Parenting Him Amongst 4 Other Siblings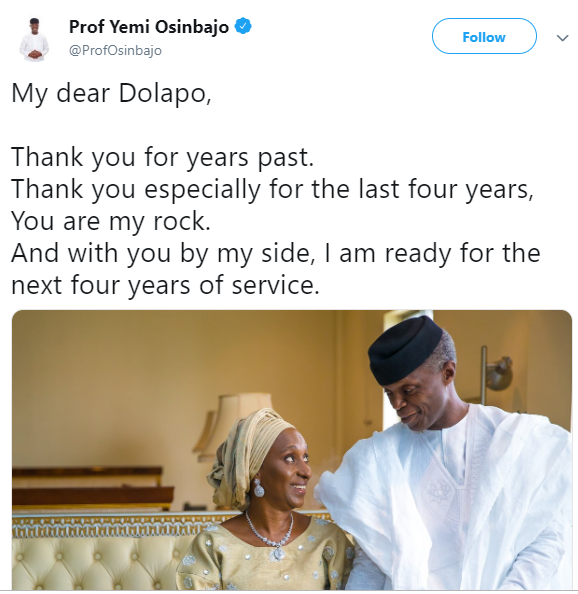 Photo credit: Twitter/Prof. Yemi Osinbajo