Veteran Actress, Shan George Slams 59-Year-Old Ned Nwoko For Putting Teen Actress Regina Daniels In A Traditional Cult
Following the controversy surrounding teen actress Regina Daniels' traditional marriage to 59-year-old billionaire and politician, Ned Nwoko, fellow Nollywood actress and producer, Shan George has given her two cents on the matter.
The cross river state born actress who has always express her disgust at any person or institution that supports child marriage recently took to her Instagram page to blast the billionaire and spared no words in expressing how she truly feels about him for putting the 20-year-old in a Traditional cult.
According to her, Nwoko who reportedly has 15 children already, is a disgusting and shameless man who sleeps around with greedy actresses and marries children but has contributed nothing to the development of his community.
Read what she wrote below:
"Senator Ned Nwoko is an ugly sad little prick, with all his so called billions, asides sleeping with some greedy actresses and buying them cars, or marrying little children all over the place, who him epp?
SEE ALSO: "I Detest Anything Under The Earth That Supports Child Torture In The Name Of…" – Veteran Actress, Shan George
Is there a free well equipped children's hospital in his own village built by him? Or a free primary/secondary school for all children of his village? Or free care home for the aged widows in his village? I mean only in his village, at least he can afford it.

I've never seen an adult so disgusting and shameless. Wicked enough to put a little child like Regina in a traditional cult of 'don't ever cheat on me'. His place in hell will sure be the hottest. (Well, this is just my opinion)."
Although she has since deleted the post, it has gone viral on the internet. Shan has never hidden the fact that she first got married at the young age of 16, at a time she was supposed to be furthering her education, post secondary school.
From her accounts at different times, getting married to a much older man, and at that naive age came with its own psychological burdens, some of which are better imagined.
It is therefore understandable why she particularly feels the need to speak up against child marriages.
READ ALSO: Actress Shan George Talks About Her Early Marriage, Divorce & More
Last weekend, Daniels and Ned Nwoko held their traditional marriage rites on May 26, 2019, in Anioma, Delta state where Ned hails from (read here) and photos/video from the ceremony was shared on social media. The ritual was conducted by elderly women from the community in presence of her mother.
In reaction to the photos, a young Anambra-born girl, Onuh Chisom Maryjane disclosed that only the positive aspect of the induction was revealed to us on social media, adding that the ritual carries a whole lot of consequences if the Nollywood star ever cheats on her husband.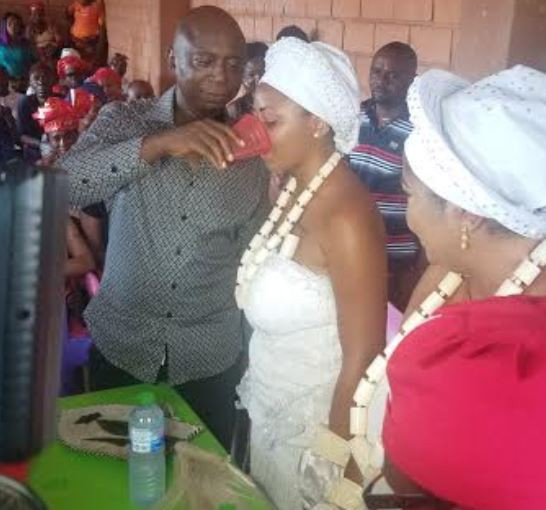 READ ALSO: Helen Paul Backs Teenage Actress, Regina Daniels, Over Controversial Marriage Choice
Also, when her husband dies, Daniels, according to Chisom is not expected to remarry except she goes through another round of ritual to untie herself from her hubby.