How This Mom-Of-2 Is Giving Hope To People Battling Mental Illness Is Worth Mentioning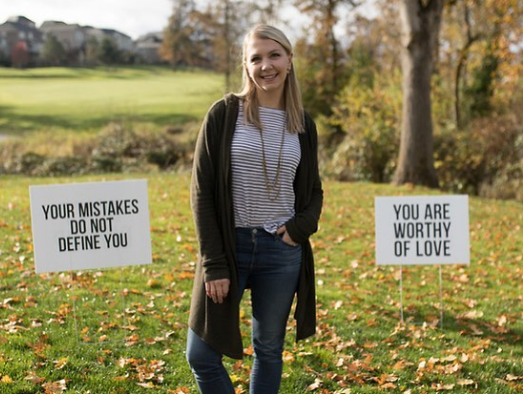 https://www.instagram.com/p/BdRAE8tl37b/
https://www.instagram.com/p/BfgvRPgl7ES/
https://www.instagram.com/p/BeTfXzuFXFl/
https://www.instagram.com/p/BevWbVaFWPm/
https://www.instagram.com/p/BeEmTvFlhj2/
Amy Wolff's inspirational yard signs have inspired thousands of people to raise awareness for mental health in their communities. Amy is a wife and mother-of-two daughters from Newberg, Oregon.
In May of 2017, Amy had a conversation with a friend who shared the alarming suicide rates in their community. Same year, roughly 47,173 Americans died by suicide and there were an estimated 1,400,000 suicide attempts.
This inspired Amy to do something to help raise awareness for mental health. So, Amy went to work creating yard signs with messages of support.
SEE ALSO: How Young Doctor, Jessica Clemons Is Helping To Eradicate Stigma Around Mental Health In The Black Community
The signs featured encouraging words like "Don't Give Up" and "Your Mistakes Don't Define You". Amy writes:
"I about fell out of my chair. I felt completely hopeless and ill-equipped to be part of a solution. After all, I wasn't a therapist. I didn't know of anyone suffering with thoughts of self-harm. What on earth could I do?.

The idea of encouraging yard signs had been bouncing around in my head for years but it was always 'just a silly idea'. That is until May 2017 – then it became something," Amy says.
SEE ALSO: How Bad Parenting Can Cause Mental Disorder In Children- Psychiatric Doctor, Ayo Omotoso
Over the next few weeks, the family knocked on doors around town asking permission to place the signs in neighbors' lawns. In only a few days, she sold 150 of the inspirational signs.
"The movement really picked up traction when family friends road tripped that summer from Portland to Rochester, leaving a trail of our [messages] in every public bathroom, restaurant, and rest station across this great country," Amy said.
Within a year, Amy realized the movement wasn't slowing down any time soon and she decided to launch the Don't Give Up nonprofit for her signs. Amy who struggled with working mom guilt once shared via Instagram:
"I'm a wife of 12 years. I'm a mom of two beautiful girls ages four and seven. I am a public speaking coach and own the company with my father. I have always lived in the Pacific Northwest. My faith in God informs the way I live but I'm not perfect.

I also struggle with working mom guilt. I struggle with knowing how to balance everything. I rely on my family and friends A LOT. I've received a lot of praise for starting this movement but I am nothing fancy. When I was 14 years old my brother Jeremy passed away.

From then on I was determined, AM determined, to make my life count – however many years that is. I'm hoping that this movement is part of my legacy: a legacy of resilient hope, absolute truth, and generous love.

Not just for people like me, who agree with me, look like me, or believe like me, but for everyone. Life may be messy BUT we are in this together! #dontgiveupsigns."
Since planting her very first yard sign, Amy has shipped messages to all 50 US states and 26 countries, in 6 different languages.
With May being Mental Health Awareness Month, the nonprofit founder has received especially touching messages of gratitude for her work.
One testimonial reads:
"I just had a woman knock on my door. She began to cry and thank me for the signs in my yard. She lives up the road and said her son had attempted suicide and these signs were in the yard the day they came home from the hospital. She drives by every day and for her, her son, and her daughter – the reminder is profound."
While another said:
"Today a middle school boy knocked on my window while I was in the drop-off lane at school. He pointed to my 'You Matter' decal and said 'Seeing your decal made me feel special and good about myself. Thanks.'"
Amy hopes that her signs will continue to raise awareness and give hope to all of those feeling lost.