Actress, Monalisa Chinda Shares Amazing Birth Story Of New Mum Who Won Against Fibroids After Six Years Of Childlessness
For some years now, Nollywood actress, Monalisa Chinda Coker,  has shown commitment to providing sustained basic care for women with cases of uterine fibroid. In 2015, she started her campaign for the awareness of the challenges of uterine fibroid under her Monalisa Chinda Foundation(MCF).
The mum-of-one led her Foundation to partner the National Agency for Food and Drug, Administration and Control (NAFDAC) to help create public knowledge about uterine fibroids in women.  Her goal was to help facilitate the treatment of at least 10 women with the condition yearly.
READ ALSO: Actress Uche Ogbodo Disagrees with Monalisa Chinda's Views on Domestic Violence: "It can never be a woman's fault
The actress's efforts have obviously been paying off; she excitedly shared the story of a new mum who conquered huge fibroids and has now put to bed twin children after six years of marriage. The fibroids which hindered the process of getting pregnant for the unnamed woman, weighed 3.85kg, according to the actress.
Monalisa revealed that the lady had endured taking all sorts of herbal drugs during her waiting period, including medications made from cow feaces but after the surgery that removed the huge fibroids, she conceived and God surprised her with twin girls.
She wrote:
"God of wonders has done it again.
If you have followed our page.
We told you a story about a lady who had huge Fibriod and been married over 6 years. She had taken all sorts of herbal drugs Even one of the meds was made from cow faceces
Today our joy knows no bound. She came to see few months after we took our her Fibriod which weighed 3.85kg.
For your trouble I will give you double
God surprised her with twin girls
On the 1st of June, after 6 years of waiting
She was delivered of her identical twins ���� God has given us great credence to our love story
God did it again.
To God alone be all the glory"
See more photos below: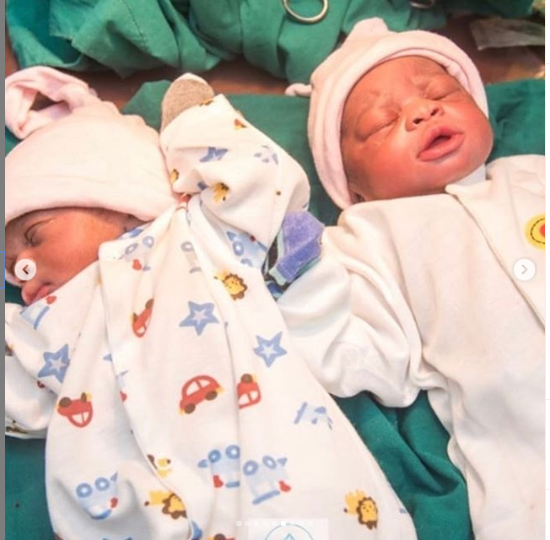 See Monalisa's original post below:
https://www.instagram.com/p/Bya-dAwF9y1/