Maje Ayida Spills On His Failed Marriage To Toke Makinwa & The Lessons Learned During The Darkest Moments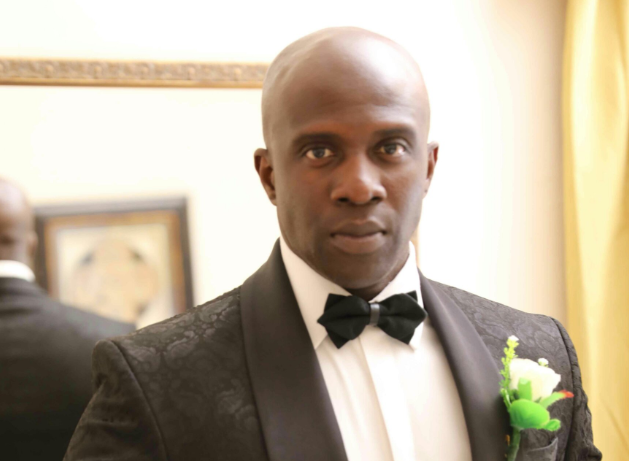 Celebrity fitness coach, Maje Ayida has opened up on how he's dealing with his failed marriage to popular radio and TV personality, Toke Makinwa and the valuable lessons he learnt during the darkest moments.
Makinwa and Maje were married for three years and their troubled marriage hit the rock over Maje's adulterous lifestyle. The union was finally dissolved by the Igbosere High court in Lagos on the 5th of October 2017.
In a recent interview with Allure, Maje Ayinda who has two sons with his mistresses talks the benefits of fitness when adopted as a lifestyle, appropriate exercises for each age group, the danger in seeking shortcuts to looking good and how he overcame the darkness following his failed marriage.
Do you believe Instagram models give other women body image issue?
Yes, they do. I think the beauty industry has always traded on how women are supposed to look; light skin and so many unnecessary pressures on what the ideal beauty standard should be. One of the main aspects of the fitness journey is to understand the beauty inside and let that shine through.
No matter how you appear on the outside, if you're beautiful on the inside, it'll shine through. And if you're really fine as a person, very good looking but you're dark on the inside that will also shine through with your attitude.
Take responsibility for how you feel because if you're caught up on the flashy things displayed on Instagram, you're setting yourself up for a miserable life.
Understand that everybody has their own time and everybody arrives at their own time and all you can do is be the best version of yourself. My job is to help you become that best version by teaching you how simple it is to just start exercising.
READ ALSO: Toke Makinwa Recalls how she Lost a N20million Deal Because of her Failed Marriage
Is daily workout advisable?
Nope. I don't recommend people work out every day. Maybe three times a week if you've never exercised before or increase that to four times a week and try to increase your level of intensity as well.
How is it like working with women in Nigeria?
First, I'll say thank you to the women in Nigeria because working with them has been great. Truth is women are more serious about the whole fitness journey than the men. That's why you have more men with a bigger stomach than women.
Do you have any experience of women hitting on you considering your profession?
Never. I think that's because I come across as somebody who is very professional. I don't necessarily make myself approachable in that way. I'm so focused on work that I think I'll miss it even when that happens.
What are some of the challenges you face in your profession as a fitness trainer?
The biggest challenge is the environment itself and how it's structured. It's hard to get people motivated because it's so challenging just to survive. So trying to talk people into adopting this kind of lifestyle, they can't make the connection.
Basic things like traffic, lifestyle, and the unhealthy options all around and even NEPA (Laughs). All these things are barriers because that prevents people from doing things. Right now, with my organization, the @hitsquad on Instagram, we're trying to take the work-out to people.
In all of these challenges, what keeps you motivated as a fitness trainer?
It's simple, I love what I do. I enjoy how I feel after working out.
SEE ALSO: Eye Witness Gives Blow By Blow Account Of Maje Ayida N100M Libel Suit Hearing Against Ex-Wife, Toke Makinwa
What are the three exercise regimens women can do to maintain a fit life?
The three moves women can do at home to maintain a fit lifestyle are high knees, which is basically running on the spot. It is a full body workout, it is cardio, it's active, and it helps you with your balance and your coordination.
Another is mountain climbers; another great combination of cardio and strength training. And planking; there are so many varieties. Those three moves give you a nice full body workout.
Can you alternate fitness for healthy food and vice versa?
Yes, when you eat healthily, you're under less pressure to put in that work in exercise. but you need to still exercise because of the extensive benefits of it. I wouldn't separate the two but if you're going to face one, face the food because that is the biggest challenge and since you're literally what you eat.
What have you learnt being in this profession?
I've learnt to believe in myself because nobody else will if I don't. I've learnt that there's no way around putting in the work, you have to work hard on anything you do to excel in life. Finally, I've learnt that it's good to be passionate about what you do because it's the passion for what I do that drives me more than any other thing.
Who are some of the people that have inspired you in this path?
People that inspire me are not even in fitness, they're in different industries and the common thing about them is that they're passionate, driven and successful in what they do; Dwayne Johnson known as The Rock, Kevin Hart, P. Diddy and Jay-Z to mention but a few.
What's your reaction to the many unpleasant things being said about you?
Well, a lot of the things, mostly negative, have been written about me and the truth is I'm not in anybody's head. So I don't know what view they have of me. But, I've been in the comment section and I've seen what people say about me and they're usually never good.
How are you dealing with this?
Truth is I don't take it personal because, at the end of the day, most of those people don't know me personally. They are reacting to something that has been put there. The people that do know me are the people that I value and it's their opinion that I value.
I don't value the opinion of someone who has no clue about me, never engaged me, never seen me in person, but have only read something about me. If you're highly opinionated about me based on that, then I'm sorry but your outlook on life is wrong.
SEE ALSO: "Her Book Hurt My Brand" – Maje Ayida Speaks on Toke Makinwa's "On Becoming" 
What happened to you after the breakup with your wife?
It was a horrible experience considering how random people became so opinionated about who you are, and people actually speaking on your behalf because obviously, I don't talk much about anything. So a lot of people were like "this is what he's thinking" and so on. That part of it was difficult for me but I didn't let it unravel me as a human being.
However, I had moments where I even doubted myself, moments where I thought "what if you don't deserve any good in life?" "What if you don't deserve to have anything good happen to you anymore?" or something goes wrong and I'll think maybe it's because of that energy, that I deserved that.
So I think that it really taught me a valuable lesson in self-belief, because it was in my darkest moments that I created my best work. I realize that adversity is there for a reason and trail is there for a reason; and whatever the lesson is that I'm meant to learn, I'll never be arrogant to say I've learnt all the lessons. I'm on a journey and whatever the reasons those things happen, I will discover along the way.
I may have discovered some already but I'm definitely enjoying being on the journey. There are days I see some things written and I'm like, "not again!" It can be entertaining on the right day, it could piss me off on the wrong day but I don't unpack and live in that space.
Whatever I think about it, it's just fleeting and I move on and get on with the things that I am doing and enjoying. People should focus on their lives and focus on achieving something and creating meaningful value, making an impact. My mission here is to plant a flag, to build a tree that I may not necessarily see shelter from.
Recall that on March 9, 2016, Toke had asked the court to dissolve the marriage on the grounds that her husband committed adultery and continuously flaunted his adulterous life in her face.
She also told the court that he committed adultery with his mistress, Anita Solomon, adding that the relationship produced a child and since their marriage was contracted, the husband had "behaved in a way she could not reasonably be expected to continue to bear".
She also said the husband was cruel towards her, adding that their differences became irreconcilable as cohabitation with her husband ceased on Nov. 8, 2015, without any child from the marriage.