Health ALERT! Why Moms Must Avoid Using Camphor & Mentholatum On Or Around Newborn Babies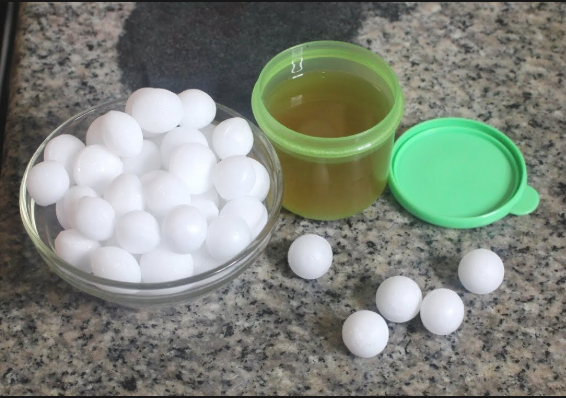 A medical doctor has taken to Twitter to warn parents and guardians with newborn babies about the dangers of camphor. According to Dr Chinonso Egemba Aproko Doctor, moms should avoid using camphor around babies and even on their clothes.
In his words, Camphor is linked to jaundice in newborn babies. He tweeted:
"If you have a newborn baby, avoid camphor around them and even on their clothes. Camphor or naphthalene is linked to jaundice in new babies. Jaundice is yellow coloration of their skin and eyes because of overproduction of bilirubin Bilirubin is poisonous to the brain of a child."
When asked if it is safe to use Mentholatum on babies, seeing as they contain camphor, he said it's safer to wrap the baby up than to use Mentholatum on a baby.
"There is nothing like baby Mentholatum I know they wrote it on the container But Mentholatum has been linked to jaundice in babies, and the excess bilirubin that causes jaundice can cause life long damage to a baby's brain. If a baby is cold, wrap them, don't use Mentholatum."
Read his full Twitter thread below…
"If you have a newborn baby, avoid camphor around them and even on their clothes Camphor or naphthalene is linked to jaundice in new babies Jaundice is yellow coloration of their skin and eyes because of overproduction of bilirubin Bilirubin is poisonous to the brain of a child.
Our red blood cells contain hemoglobin, this is what helps carry the oxygen from your lungs to other places. When red blood cells are broken down, this haemoglobin is broken down to bilirubin. When this gets to the liver, something binds them and makes them less harmful.

Now babies have a special kind of red blood cells at birth that have a short life span. They also have low concentrations of that binding substance in the liver. Now camphor may increase the breakdown of these red blood cells causing an increase in bilirubin.

Because this bilirubin is not bound, it enters into the blood stream, this is what colors the eyes and the skin of the baby yellow. If it gets too high, it may get into the brain of that baby, this can lead to seizures, drowsiness, poor feeding or sucking, abnormal cries."
READ ALSO: MUST READ! Nigerian Doctor, Bobby Egemba Highlights The Dangers In Shaking A Crying Baby
To corroborate Dr. Egemba's warning post, a mom has shared her son's experience with camphor and Mentholatum, and the health challenges he suffered afterwards. She wrote:
"Dear Mums, Camphor is honestly linked to jaundice in babies. Mentholatum too is linked to jaundice because it contains camphor. Especially baby boys says my Doctor.

I knew this years back after my son got really sick a few days after birth and I never suspect the camphor in my drawers was dangerous. After the Doctor's lecture while on admission in the ICU, we got home, I cleaned every cupboard and threw the camphor balls away. Threw away his bottle of mentholatum too.

Up till now, when my son sits around anyone with camphor smells, he immediately begins to have a dry cough that won't stop until you take him away from there.

When we got home from the hospital, I published a post on how to give bath to newborn baby the Nigerian way. On that post I revealed that The Doctors advised we don't use camphor around the newborn.

After we got discharged from the hospitals and his yellowish jaundice eyes cleared, I quickly shared here on the blog and warned parents to desist from using camphor. No camphor in the house, not in baby's clothes or any box or cupboards.

The rate at which babies get sick with jaundice these days is alarming. Visit hospitals and you know that even getting beds to admit jaundice babies is hard as jaundiced babies come in daily.

Up till now, I still feel like my baby wouldn't have had that much bilirubin in his system if we didn't keep camphor in the house."
READ ALSO: Newborn Jaundice: Causes, Symptoms, Treatment, and Prevention
Another health specialist, a neonatologist, Prof. Angela Okolo, had also warned parents of newborn babies against the use of camphor, menthol, methylated dusting powder and other such substances, saying this could result in jaundice.
She said that jaundice remains one of the leading killers of newborns in the country.
"Neonatal jaundice is a leading cause of  hospitalisation in the first week of life in Nigeria. It is also a major contributor to neonatal mortality and long-term morbidity, if not detected early and properly managed.

The cause of jaundice is excess bilirubin; a waste product produced when red blood cells are broken down. Many factors like breast milk, sickle cell anaemia, low birth weight and prematurity have implicated the development of jaundice.

However, we are seeing cases of jaundice caused by other things like unhygienic practices of the mothers and health workers, infections, the use of things like camphor, Robb, mentholatum and dusting powder on the babies.

These things predispose babies to jaundice by breaking down the red blood cells of the baby. The more the red blood cells are broken down, the higher the bilirubin comes up, and this may result in brain damage if not detected early."
According to her, the lack of practical skills among health workers contributes to morbidity and mortality among newborns.
"A lot of mothers lack access to quality healthcare, a majority have their babies in community health centres, where many health workers lack newborn care skills. A lot of these health workers ignore simple preventive measures like hand-washing.

We need the support of the media to help us raise awareness on jaundice, prevention and early signs. We need to bring to the attention of the public that jaundice is a major infant killer."
READ ALSO: "Stop cleaning your ears with cotton buds" – Nigerian Doctor, Nonso, Warns With Reasons
Okolo said the health workers and mothers could monitor the babies for earliest sign of jaundice by gently pressing the baby's chest, or a slight pinch of the nose.
"Often times, we want to look at the eyeballs of the baby to detect jaundice; by the time we are noticing it in the eyes that  jaundice has gone far. Whereas simple ways of detecting jaundice involves a slight pinch of the nose, a gentle press of the forehead.

If there is a yellow tinge to the skin, as the pressure is released, take the baby to the hospital for proper management and treatment. Don't try to treat jaundice at home.

Administration of pawpaw juice, early morning light and glucose water are of no value in the treatment and management of jaundice. Late presentation to the hospital could result in brain damage."
Okolo said that other signs of jaundice include pale stool, dark urine, vomiting and high-pitched cry.
If you have a newborn baby, avoid camphor around them and even on their clothes

Camphor or naphthalene is linked to jaundice in new babies

Jaundice is yellow coloration of their skin and eyes because of overproduction of bilirubin

Bilirubin is poisonous to the brain of a child

— Aproko Doctor (@aproko_doctor) June 14, 2019
Because this bilirubin is not bound, it enters into the blood stream, this is what colors the eyes and the skin of the baby yellow.

If it gets too high, it may get into the brain of thay baby, this can lead to seizures, drowsiness, poor feeding or sucking, abnormal cries

— Aproko Doctor (@aproko_doctor) June 14, 2019