Flat Tummy Tea For Pregnant Women? Pregnant Mum, Amber Rose Called Out For Promoting Awkward Products For Women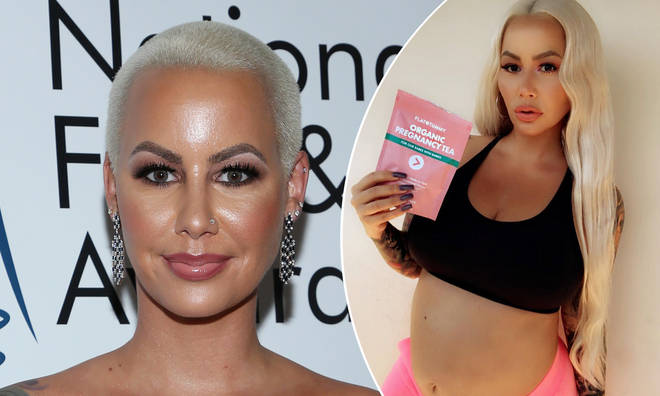 US model, Amber Rose is facing some serious backlash after promoting an "organic pregnancy tea" from Flat Tummy Co, a company known for their weight-loss and detox products. The 35-year-old mum who is due to welcome her second child any moment earned the wrath of internet users for promoting the pregnancy detox tea which could cause miscarriage.
Amber Rose advertised the product on her Instagram page which has 19 million followers. She held the product close to her bare baby bump and wrote:
"This is not a detox tea – it's specially designed to help reduce occasional nausea and support digestion during pregnancy – haters stop riding the bandwagon and think for yourselves."
The advert didn't sit well with a lot of people including actress Jameela Jamil who tweeted at the model, scolding her for promoting awkward products about women added:
"FLAT TUMMY PRODUCTS FOR… PREGNANT WOMEN? Is this FDA approved? Are we… fu**ing… KIDDING?"

"So many women, with such big platforms, promoting such irresponsible fu**sh*t, that it blows my mind,"

"NO AMBER ROSE, NO."
READ ALSO: 'Stop looking for famous people to influence your children' – Amber Rose Advises Parents
Recently, Jamil criticized celebrities like Kim and Khloe Kardashian and also Cardi B for pushing weight loss products for women. Speaking at a conference, she wrote:
"I'm developing a thing called the F*cksh*t Detox…it's like a juice fast, but instead, you just eliminate all of the bad, toxic people and things that are in your life, rather than food".