Armless Ghanaian Teacher, Madam Enyonam, Defies Her Obvious Disability To Shape Positive Beliefs Beyond The Classroom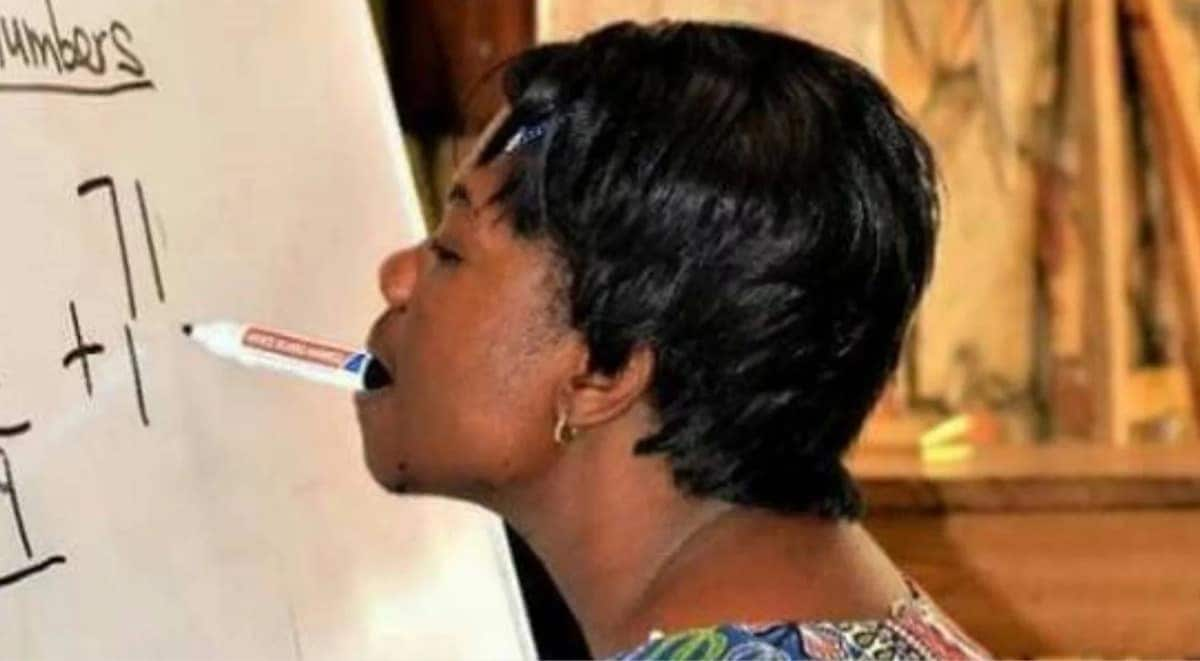 Despite being physically challenged with no arms to facilitate her daily routine, a teacher has become an inspiration to people after a photo of her holding chalk with her lips to write on a board went viral. Madam Enyonam, a teacher at Adoagyiri R/C school in Kasoa, has reinforced the narrative that disability is not inability.
This is coming after a photo of her holding chalk with her lips to write and teach school pupils went viral in 2018.
A recent photo of the teacher with a felt-tip pen in her mouth writing on a board has surfaced on social media again, and the inspiration she exudes is no less potent.
READ ALSO: Benefits Cheat: Father Claiming He Is Too Disabled To Work Seen Lifting Scooter Up The Stairs
Her efforts, regardless of the herculean challenge. has many lauding the teacher for surmounting the difficulty to transfer knowledge to her pupils.
The powerful message the teacher conveys goes beyond the classroom. Teacher Enyonam is also teaching her pupils about how to be leaders, move out of their comfort zones and beat down the difficulties in life to become winners.
After all, what one does can only become visible when they dare to be extraordinarily different. Enyonam defines true resilience in the face of an obvious challenge.
Also powerful, is the message that there are still people who have not checked out of the system; people who are willing to shape minds and paradigms regardless of the daunting challenges present. Hopefully, more people would be encouraged to look beyond whatever incapacitates them to impact society positively.
See another photo of Enyonam below:
https://www.facebook.com/blackstarofafrica/photos/a.283218505619883/409234836351582/?type=3