Pure Joy As Woman Delivers Triplets After Three Heartbreaking Miscarriages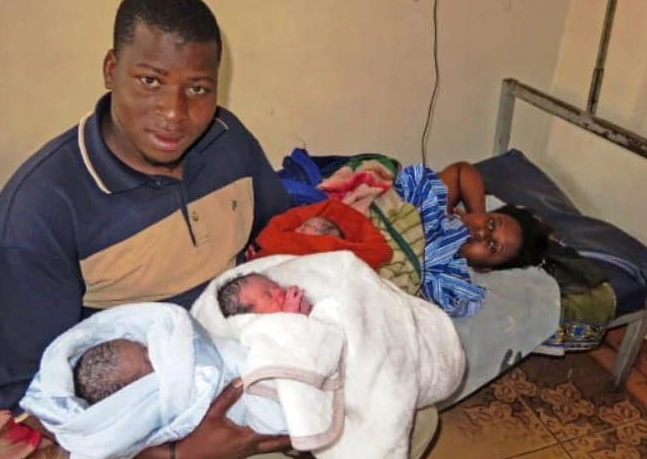 This is so inspiring! A young couple is currently filled with unimaginable joy as they welcome a set of triplets, two girls and a boy, to the world after suffering the agony of three miscarriages in the past, Daily Mirror reports.
24-year-old Rinah Musimire, pictured on the hospital bed, delivered three bundles of joy, all at the same time after nearly losing all hope of conceiving. Musimire's first baby weighed 1.kg, the second, 1.4kg, while the third one weighed 2.4kg.
The couple who are peasants had been told by people -family and friends that Musimire's chances of getting pregnant again were very slim after the three agonising miscarriages she previously suffered.
The new parents which hails from Kyabukuju Village, Mutojo ward, Rubaare sub-county, Uganda, have been married for five years and for a young couple to be married that long, questions are bound to be asked by relatives on the possibility of offspring.
The two resorted to prayer after the three misfortunes and it looks like their prayers were finally answered and they were blessed three times over.
Speaking on the delivery, Musimire's 26-year-old husband, Asuman Kato revealed they had to follow doctors' advice to the latter on their fourth attempt at pregnancy. Mr Kato said:
READ ALSO: Be Encouraged! After The Loss Of Their Twins & Years Of Waiting, Arnold & Stephora Are Smiling Again
"Everyone was telling us that she will never sustain a pregnancy following the previous miscarriages. My family put me under immense pressure to marry another wife but I never listened.

When she conceived my triplets, we attended antenatal care together. We listened to the doctors' advice."
According to Mr Kato, his family has a history of twins, with one of his uncles having three sets, while his father and paternal aunt too, have a set of twins, which would explain the blessing of triplets.
The new mom said while the scan had indicated she was pregnant with triplets, she never believed until they were delivered. Musimire said:
"I'm so excited because I never dreamt that my small tummy could hold three babies."
Their doctor, Nicholas Karuhanga, confirmed Musimire delivered through a c-section although both her and the babies were in no danger at all. Dr. Nicholas said:
"I have been in service for the past six years but this is my first time to deliver triplets. She underwent blood transfusion to minimise risks of insufficient blood in her body.

I have monitored the mother throughout her pregnancy and have been calling her husband all the time to ensure the safety of the mother; I hope we shall be successful all through."
READ ALSO: Trying For a Baby After a Miscarriage? See What You Must Do After Your Loss
The risks of such pregnancies
Dr Karuhanga explains that the high order twins' pregnancy (pregnancy with more than two babies) puts the mother's life at high risk due to complications, including anaemia since the babies compete with the mother for blood. Other complications include high blood pressure and heart failure or any other heart-related complications.
He said:
"The heart is normally overstretched and overloaded because it has to supply blood to four people, yet it is used to supplying to one.

The pump, which is the heart, should be in good mechanical (good health) condition and the overload determines its durability. Mothers with high order twins tend to have heart complications even after delivery."
He further notes that pregnancy induced cardiomyopathy also increases risk of hypertension during pregnancy, delivery and post-delivery.
There is also high risk of post-delivery bleeding since the uterine muscles are over-stretched, making it hard to contract. Dr Karuhanga adds:
"The best way to deliver such mothers is through caesarean section to reduce pressure on the mother and reduce time between deliveries because the time spent predisposes mother to more risks."
READ ALSO: Why 40% Of All Conceptions End In Miscarriage -Obstetrician, Dr David Ede-Edokpolor Enlightens Us
The delivery of high order twins is the second time in the district this year after a nurse at Itojo Hospital delivered four babies in April.
Photo credit: Daily Mirror