'Love found me' -How A Twist Of Events Sparked Off Amazing Love Story For Olawale, Visually-impaired LASTMA Official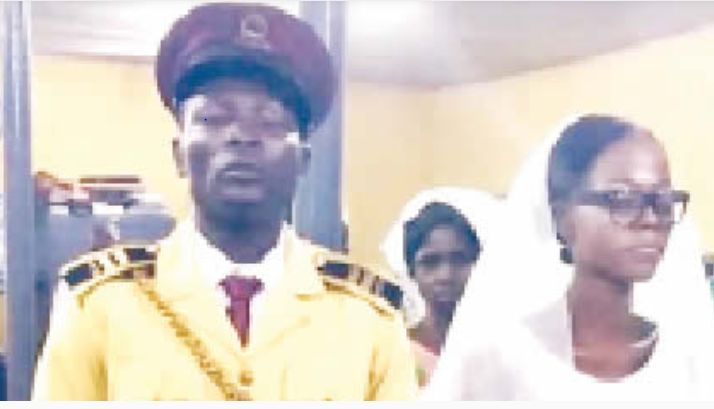 This is an interesting love story of 38-year-old Yesufu Olawale, who finally found the love of his life at a place he least expected. Olawale, a visually-impaired LASTMA official shared his harrowing life journey with Saturday PUNCH and how it set off other events that ultimately deliver to him a one-of-a-kind love story.
The last few years have thrown all sorts of challenges to Olawale's way. Apart from contending with several life-threatening incidents over this period, the loss of his sight in 2014 opened a new chapter in Olawale's journey, catapulting him through different realms since then.
Not having any premonition of the calamity that was about to befall him, Olawale woke up on the morning of February 13, 2014 in preparation for work in high spirits.
Controlling traffic on Ikosi Road and around the area in Oregun, a suburb of Lagos, the young man was expecting a fulfilling time at his duty post that fateful day, as was the custom, when his life's story changed.
By 5:30pm that evening, things took a different turn. Olawale noticed that something had gone wrong. He narrated:
"After controlling traffic for more than three hours that day, I suddenly discovered that I couldn't see normally again. I noticed that vehicles became very tiny.

In order not to cause accident, I had to beckon on a colleague to take over from me. I immediately informed my zonal head and he said I should report to any government hospital for proper checks."
READ ALSO: Be Hopeful! Blind Teacher Finally Finds Love in his 50s
The days that followed that discovery not only brought all kinds of troubles for Olawale and his immediate family members, it also put a heavy strain on their lean pockets.
From hospitals to diagnostic centres, Olawale went everywhere in search of a solution. But the more he tried, the more difficult it became to get a way out. The official of the Lagos State Traffic Management Authority, continued:
"At Isolo General Hospital, it was initially discovered that I had glaucoma. But I told the doctor that it couldn't be glaucoma became I wasn't totally blind.

I was given a letter to go to a diagnostic centre at Yaba and a doctor there said I had cataract. I was referred to Lagos State Secretariat Staff Clinic at Alausa where another told me that it was retinal detachment that I had.

I was thereafter referred to one Dr Awoyinfa at the Lagos State University Teaching Hospital, who confirmed that it was actually retinal detachment and that only one doctor could handle such a case in Nigeria.

On getting to that doctor named Okonkwo, he said that he would perform a surgery and see how the problem could be corrected. I was given a bill of N550, 000, which I submitted to the management of LASTMA through my commander then, Jubril Oshodi.

On January 10, 2017, Mr Musa Olawale took over as the General Manager of LASTMA and he took it upon himself to see an improvement in my condition. But by the time I went back to the hospital, it was realised that there was no solution; it was already too late for the surgery.

He sent me back to Eye Foundation where my condition was reassessed and a fresh bill was given. The amount was N885,000. The doctors later said there was nothing they could do about my condition.

I was taken to Mecure, an Indian hospital at Oshodi, Lagos. A female doctor there told me that it wasn't something that could be done surgically. After then, my bosses agreed that it would be best for me to attend a school for the blind so as to know how to function well in my new condition. I was introduced to Mr Victor Oteri of Traffic Radio, he and his boss counselled me a lot."
READ ALSO: 'When I was about to marry, 8 women wanted me' Blind PhD Holder Tells His Inspiring Story
Eventually, Olawale accepted his new fate and sought ways to acquire skills that would help him function better without his eyesight. Shortly afterwards, he began a new journey. He further shared:
"I soon enrolled at the Anglo-Nigerian Association School for the Blind at Alagomeji in Yaba, Lagos. I started in March 2017 and graduated in December of that year.

"While there, I learnt to accept my new situation and learn ways to survive as a visually impaired person. Immediately after I graduated from that school, all necessary items, including a cane were provided for me. I was also given a special laptop."
After his rehabilitation at the school for the blind, Olawale, who holds a Higher National Diploma certificate in Business Administration and Management from the Lagos State Polytechnic, was moved to the Welfare Unit of LASTMA at the agency's headquarters in Oshodi, Lagos.
Revealing how challenging it has been carrying out his duties without his sight, he told PUNCH that courage and determination are the two things that have kept him going.
"After discovering that my vision was blurred, I was still reporting to work while still making efforts to find a solution to the problem. I felt strange initially but interacting closely with those who had lost their sight for long inspired me a lot.

I soon came to understand that being blind was not the end of the world. I had to accept my situation after then. People help me to move on the road each time I am going out. They give me more than the assistance that I ordinarily could have required.

All through my travail, I have received the support of my bosses and colleagues. They have really been nice to me and I thank them immensely for their love."
Speaking on how he met his pretty wife, Adenike, the traffic official disclosed that the loss of his sight played a crucial role as it created the opportunity for the two of them to come across each other at the school for the blind. He shared:
"I met my wife while I attending the school for the blind. We were in the same class in the computer lectures. She is partially blind. She had exceptional character compared to other ladies I met there.

I spoke to her about my feelings and she showed positive response. That was how we started. When she told her family about me, there wasn't any issue; they accepted me the way I am.

We got married in June at a colourful ceremony attended by top management staff members of LASTMA. I am really grateful for all the support they have given me so far.

Since marrying my wife in June, my life has not remained the same because she has brought renewed hope and happiness into my world. I look back at my journey into the world of the blind with gratitude to God. The type of love people have extended to me has been beyond my imagination."
Also expressing joy and satisfaction at finding love in the heart of Olawale, the new bride, who is partially blind, told PUNCH that the two of them were made for each other. According to her, the discouragement from people couldn't stop her from being with him because she believes God has a purpose for their lives and marriage. She began:
"When he approached me, I was surprised. Initially, I felt reluctant telling my parents about my decision to be with a blind man. But after committing it to God in prayers, I realised that it was the right choice.

I wasn't born blind, the issue started about three months after my birth. It was detected that I had cataract in both eyes, but they said the right one was still good.

I met my husband in 2017 at the school for the blind and God has surprised us beyond our imagination since that period. We didn't plan for our wedding to be that big; God raised people to make that a reality and we are grateful to everyone who supported us in different ways.

I believe that God has plans for our lives and that is why He made us meet each other. We surely have a glorious future together."
Photo credit: PUNCH