After 11 Years Of Waiting, Solabomi Garba Gives Surrogacy A Try & Gets Overwhelming Result | Read Her Motivational Story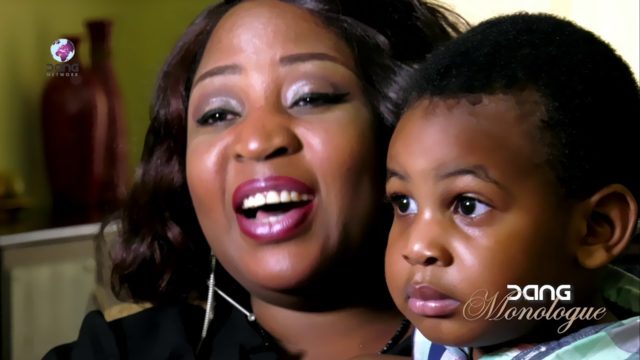 In an episode of DANGMonolgue, a series which shares the firsthand stories of people, a Nigerian mom, Solabomi Garba talks about her journey into becoming a mother. Solabomi had been waiting to have her own child for 11 years and it finally heaven smiled at her when she was 40.
She had her bundle of joy when she was 41 via a surrogate.
The excited mom shared her journey to having her baby through surrogacy and the irreplaceable joy of being a mother.
Read below…
"If you ever wondered if you're going to connect with the child that's been growing in a surrogate's womb for 9 months, there's nothing to worry about. The connection is instant! Just like that!

It's as if your child has been waiting to meet you and you have been waiting to meet your child. I can't even describe the feeling, it's indescribable. The first thing I felt was gratitude, humility, finally…. I have friends, they are still there, waiting longer than I, that still don't have their child. So, thank you God that I have gotten this opportunity.
READ ALSO: Surrogacy Is Now A Thing In Nigeria: Meet The Women Who Help Other Women Carry Their Pregnancies
It was a good feeling. All I could think of was I would do anything, everything to protect this child, to love this child. So many promises in my head. Of course, as you can understand, I broke down.. the midwives, the nurses, the doctors… there was no dry eyes in the ward. It was beautiful.

I had never seen anything so beautiful in my life. He cried and his voice was gold in my ears. Finally, I am carrying a child I wouldn't have to give birth to as his mother, I am his mother.

It didn't feel like it. It felt strange. Am I in a dream? I hoped and prayed I never wake up if this is a dream. I'm happy to be in dreamland forever as long as I can have this child with me.

My advice to anybody going through this waiting on the lord for anything, is not to let anybody put you down. Don't let anybody say, you're not a woman. You're not a mother, you're not good enough. You will get the subtle messages, you will going to get it a lot.

People telling you, "go and get pregnant for somebody else, your husband wouldn't know, you're doing him a favour or leave him, try somebody else, if you get pregnant, get an abortion." I've heard it all.
READ ALSO: Actress and Mum Of Two, Ufuoma McDermott Reveals She Conceived Her Son Through Assisted Reproduction Technology
But it's up to you. It's a cycle but its hard. I've been on this for 11 years and it finally worked when I was 40. I had him when I was 41. I've met people that are well over 50 and they say things like, 'I've been praying and fasting…"

You can do all that. Just make sure you cover all the areas. The best thing out of this experience is, finally, I'm carrying a child that I don't have to return."
Watch her express her joy below…