"Life will happen when it happens" – British Model, Ashley James Cheers Other Women Who Are Above 30 And Still Single With Her Glowing Message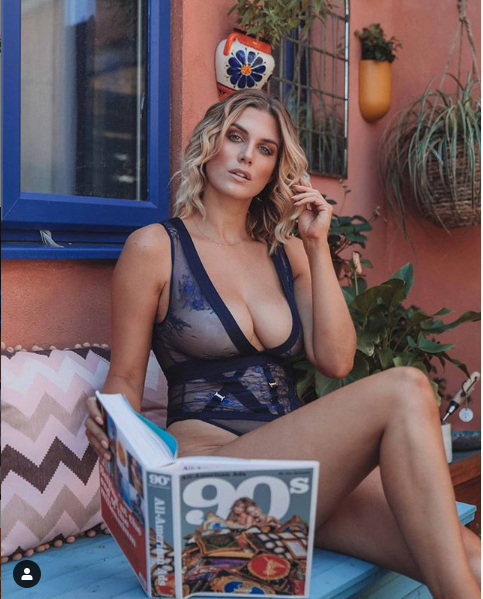 For most women, 30 is the dreaded age past which they must not remain single. But many factors are coming into play forcing more and more women to remain single well past that age.
One such woman is British model/presenter and DJ, Ashley James, who is currently looking for love. The 32-year-old pretty woman who recently joined a dating app, took to Instagram to charge women who are above 30 and single, like herself to embrace the single life.
Sharing this sizzling lingerie snap on Instagram, the TV personality admitted she posted the photo because it was the 'hottest she had ever looked' to encourage single women who thought of themselves as 'having a shelf life' to think otherwise.
SEE ALSO: Relationship Matchmaker, Olajide Tope, Shares Tips On How Singles Can Make The Most Of Online Dating
She wrote in a lengthy caption:
"WHAT'S WRONG WITH ME? I wanted to write this post to all the women who contact me all the time questioning what's wrong with them because they are either single and haven't found "the one" yet, or who are in or coming out of toxic relationships… THERE IS NOTHING WRONG WITH YOU.

I'm writing this (with the hottest picture I could take today) mainly because I've had to remind myself of all these things this week. Life continues with so much happiness if you're single after 30 (or late 20's) and there is no rush to settle down.

There's SO much societal pressure to find the one or settle down that when things don't work out we're left questioning our own worth. Even me, I'm so happy and have got to a place where I've stopped spending too much energy on wanting to be in a relationship and spend more time focusing on my friends, but it's easy to get sucked into societal pressure, especially when someone messes you around.
READ ALSO: Lifestyle Blogger, Ajike, Gives Tips To Single Women On How To Spot A Sensible Nigerian Man on Social Media
It might look like others have a happy ever after, but things aren't always as they seem and not every relationship is happy. It might feel like you're "running out of time", but we still have so much life to live, and being with the wrong person would feel like prison.

I shot this photo today with @lydiaxcollins, and wanted to attach it to this post, because quite honestly, it's the hottest I've ever looked. So to all the people worried that their "being left on the shelf", or questioning leaving unhappy relationships… we are our hottest, most confident, most self-aware and most financially independent now more than ever.

Let's not waste the best part of our lives wishing our life away. Life will happen when it happens, and we hopefully all have a very long life ahead."
READ ALSO: Nigerian Man, Ameer Who Shared a Very Insensitive Tweet About Women Gets Deserving Replies