Nigerian Lawyer, Joy Terundu Shares Thought-Provoking Story Of How She Became A Single Mum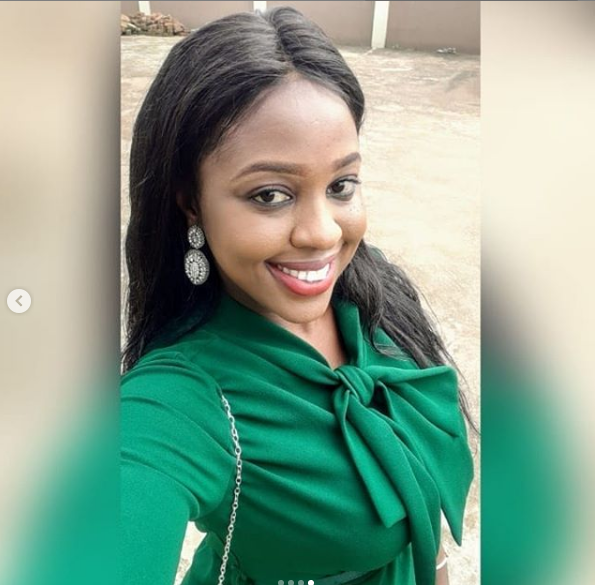 Single Nigerian mum, Joy Terundu took to her Instagram account to tell about her unforeseen journey to single parenthood; including how she married a man three months after they met and what led to their divorce shortly after. The young mum talked about barely knowing the man she married and according to her when they came together as husband and wife, it dawned on them both that they were complete opposites, either of them crossing over to the other's side was not feasible either as that would mean losing oneself.
The single mum wondered about life's irony, saying she never thought she could one day become a single mother and her dreams about modeling her parents 31-year long marriage did not quite pan out as she had envisioned.
READ ALSO: Single Mum, Shade Johnson, Explains Why She Is A Single Mum, Says Promiscuity Not Among
Joy continued to narrate that after getting married, it dawned on her that the happily ever after that she dreamed of may not be and she was left with two choices, to stay on and resign to her ill fate of being with a man who shared nothing in common with her or find the courage to leave and find the life she believes in. Joy said she chose the latter, is proud of herself and told her story in a lengthy Instagram post.
Read Joy's lengthy post below:
Isn't it crazy yet wonderful how unscripted life can be?
I mean look at me, if anyone had told me that I would one day be a single mother, I wouldn't have believed them. 
I always thought that I would grow old with the one man that I marry; it's what I wanted, it's what I grew up witnessing. 
My parents have been together for 31 years. Though imperfect, I watched my father treat my mother with so much love and respect. 
They liked eachother's company and I never witnessed dad being cruel to mum.
He was always supporting her even when we all knew that she has messed up. 
It was so beautiful to watch (it still is) and I wanted the same for myself.

But, when I got married to the man I met only three Months after "knowing" him (long distance), this dream of mine was not to hold. 
I tried to make it work, we both did but in the end, I was so miserable (we both were). We were incompatible to say the least and when two persons who have completely different views about life, beliefs and dreams come to live together, the result is chaos. 
I wasn't going to cross over; that would have meant losing myself and everything that I believed in. He wasn't going to cross either – 
I was then faced with two options:

1. To accept that situation and spend the rest of life wondering what might have been if I had married the man who shared my dreams, ideas, hopes and beliefs. 
The man who spoke tenderly to me, who saw my soul for what it is, who wanted to take long walks together, play board games, enjoy reading my works and think that I am the most incredible being ever whom he cannot imagine a life without
OR
2. Leave and avail myself for the life that I desire.

I chose the latter because forever I decided, is too long a time to stay unhappy. 
It's being great out here.
I'm at peace. 
My chest doesn't hurt anymore and I do not dread each passing day.

I'm surrounded with the love and support of family and a few good friends. 
I'm able to further my life and pursue all the things I've always desired to do.

Being a single mother has been awesome too, I carry my status with pride, because it really is nothing to feel ashamed about, if anything, I am proud of myself for having the courage to do all that I have done. 
You should see me screening toasters , that's because I am not willing to settle for just any man.
I know what I want and it's what I would have and give myself to.
As for our girls, they would continue to know that daddy loves them.
What happened between us is between us, the kids should not have to suffer for it nor witness it at all, because when parents fight, the children bleed and I would not do that to our girls. 
Daddy loves them and they should have a great relationship.
I am very hopeful about the future.
I hope that he finds his happy (if it hasn't happened yet) and I hope that we can be reasonable co-parents (because we would marry other people) who can sit down together and even take trips for the sake of our beautiful girls.
It's a great life.
I made the best desicion I could have made.
#singlemom
See screenshot below: