Wendy Williams Does This After Having A Change Of Heart Towards Her Cheating Husband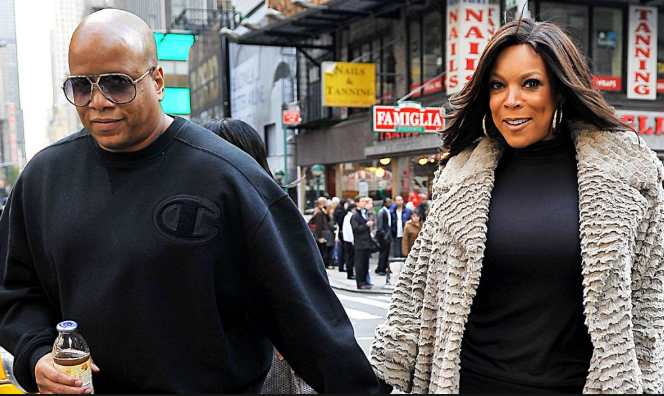 Newly single celebrity mum,Wendy Williams after splitting from her husband of nearly 20 years, Kevin Hunter has reportedly had a change of heart. The couple's split was announced in April after Kevin's constant cheating reportedly got to a height and he welcomed a newborn by his long term mistress.
Fresh reports have now emerged confirming that the talk show host is set to take her estranged husband back only as her business manager after the pair had a series of emotional heart-to-heart talks about their professional life together.
READ ALSO:Wendy Williams Stands by Her Husband Amid Cheating Allegations | See Details
According to Dailymail, the celebrity mum is now in talks with Hunter over his possible return as her business manager.
Recall that the 55-year-old TV host dumped Kevin Hunter, 47, and fired him after his long-term affair with massage therapist Sharina Hudson, 33, whom he welcomed a child with was exposed in April 2019.
After a series of face-to-face meetings, the pair even drafted a joint press statement to announce they will not dissolve their production company, publishing house or charitable foundation in a bid not to damage the 'legacy' of the work they've put in.
Though their 22-year marriage ended in infidelity and acrimony, a source told DailyMail.com the two still make a 'solid team', having built a successful business, which they are now trying to preserve with a carefully negotiated divorce deal.
The publication reported that lawyers for the pair are close to a settlement agreement and Williams has paved the way for Hunter to return as her business manager.
'Wendy and Kevin's marriage might be over but they still have love for one another and she realizes that when it comes to business they had a great partnership, there was definitely magic there,'
a source close to the couple told DailyMail.com.
READ ALSO: TV Host, Wendy Williams Finally Files For Divorce After 20 Years Of Marriage To Kevin Hunter
'Wendy has come around to the idea that it makes more sense for Kevin to stick around, it's best for her business and career and for their family.
'Since he left the business there's been a lot of infighting and back-biting behind the scenes, that's the kind of stuff Kevin kept a handle on.
'Of course Wendy was furious with Kevin over his affair, she felt he had publicly humiliated her and she wanted to come out fighting, but she's since softened her view of him and wants an amicable divorce. 'He has been very supportive, particularly around her struggles with alcoholism.'
But while the couple is understood to be trying to resolve their split 'amicably' for the sake of their family, Hunter is concerned that if he agrees to come back as Williams' business manager and make certain concessions in the divorce settlement, she could easily decide to fire him down the line, the source explained
'Kevin is willing to work with Wendy but he wants to make sure anything he decides to do is in his best interests, that's what's being sorted out now,'
the source said.
Despite William filing for divorce in April, the deal would mean that Hunter and Williams' companies, including The Hunter Foundation, WW Talk Productions and Hunter Publishing Group, will not be dissolved.