Graduate And Nigerian Mum-Of-Two, Jossy Otu, Shares Why She's Putting Financial Independence Above Her College Degree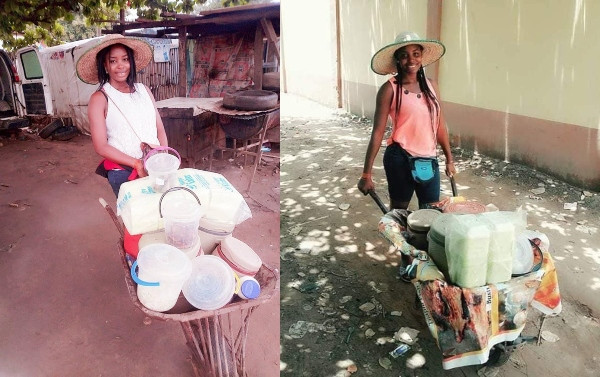 A Nigerian mum, Jossy Otu, who has taken the path of self-employment to better her economic lot has shared how her choice of a business attracted disdainful stares and belittlement from people, even though she earns a better income than an average salary earner.
The mum-of-two who disclosed that she is a university graduate and is also married to a lawyer said she decided to create a job for herself as she couldn't get one.
According to her, she was ashamed the first day she started off the business but went on to make a profit of N150k in two months. She shared how profitable her seemingly small business has been and says she has seen other women accomplish great things by applying themselves to what others would generally consider lowly in terms of business.
READ ALSO: Nigerian Software Developer, Ada Nduma Oyom, Is Your Inspiration For Today | See What She Did & How She Did It
Joy who says she has been told she's too beautiful to push a wheelbarrow around selling food, says God blessed her by taking her out of her comfort zone.
Read what she wrote below:
"Hello, this is me. I sell food on a wheelbarrow, yes I went to school, married to a lawyer, but some will say y r u doing this?

Some even said u r beautiful to be selling food in a wheelbarrow? I laughed, see when God want to bless you he takes you out of yourself comfort zone, am not ashamed of my hustle, I got praises likewise criticised for my hustle.

The first time I took my wheelbarrow I almost went back, I was ashamed @ first, what will my friends and family say chai, but then I encouraged myself if I go broke now some of my friends and family will desert me, so to hell with what people will say, that day I sold all my food by 1 pm and mad a profit of 3k my capital being 5k chai I wan craze, that devil is lier.

To cut the long story short under 2 months I made 150k as profit, so dear friends I have seen a lady that fried akara to build a house and send her children to the university, that small business that u think you can't do u r too big for it may be yourself stepping stone to greatness, don't die of hunger o encouraged yourself, God bless you all and give you ideas to make wealth.  

As Govt don't want to give me work, I decided to create one for myself. Never be ashamed for your hustle, no one will feed you when you are broke. Be dirty to get your food instead of clean and hungry, Refuse to be a beggar, wealth is a choice, poverty is a choice. #proudofmyhustle #imakemoremoneythanasalaryearner"
READ ALSO: Armless Ghanaian Teacher, Madam Enyonam, Defies Her Obvious Disability To Shape Positive Beliefs Beyond The Classroom
In another post, Joy shared the following words:
 "6am am up and doing, ready for the day, someone asked how do I keep up, first of all you must have passion, zeal, and perseverance for what you do, without these you will loose interested, I remember one day I was heavily beaten by the rain, under the rain tho soaking wet I still pushed my wheelbarrow to sell my food, never letting the rain to kill my vibe, some said where is your lawyer husband let him open shop for you see this one, my dear everybody dey hustle o for this regime, so if I want to buy sweet, oga lawyer, biscuits Mr lawyer, pad and small petite things I go wait for barrister lawyer.

No I too want to be independent, to support him too, we need to support our men, ladies we can't let them do all the work, started up something no matter how small with a genuine heart and love, you will succeed. Think positive, Abeg make I go sell my delicious food."
See screenshot below: