Annie Idibia Relieves Her Secrets To Staying Young And It's Not What You Think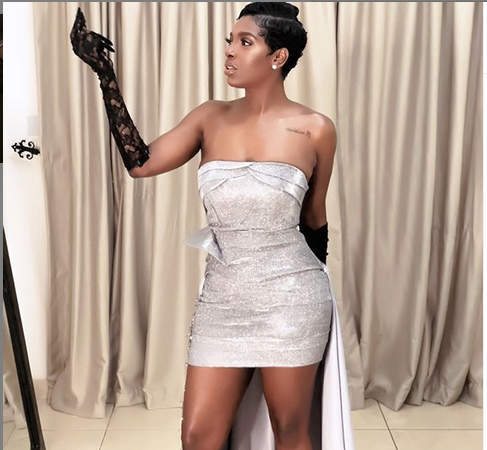 Super mom-of-two and Nollywood actress, Annie Idibia has managed to keep up her great talent and looks over the years. Some hours ago, the 34-year-old via her Insta stories finally came through with the secret to her young look and she said it's all because she minds her business.
The talented actress who is the wife of popular singer 2Face Idibia, also revealed that she doesn't surround herself with people who don't drain her emotionally or verbally. Annie said she loves deeply and doesn't talk behind anyone's back 'anymore'.
Read her post below…
"Please all those asking me everyday, 'Annie what do you do to stay so young?' my dear. I mind only my business and my business alone!!!. I don't surround myself with people who drain me out emotionally or verbally!!. (In fact, I am mostly alone lately).

I RESPECT people! I don't talk behind anyone back! (anymore), learning to forgive, which is my greatest challenge as a scorpio human! I love and love deep, even if I am to do it far away. I don't ever, I repeat EVER envy anyone, NEVER. And yes I am content with my life but strive to be greater, bigger and wiser everyday."
READ ALSO: Oprah Winfrey Reveals The Secrets Of The Lasting Friendship She Shares With Her Best Friend Of 40 Years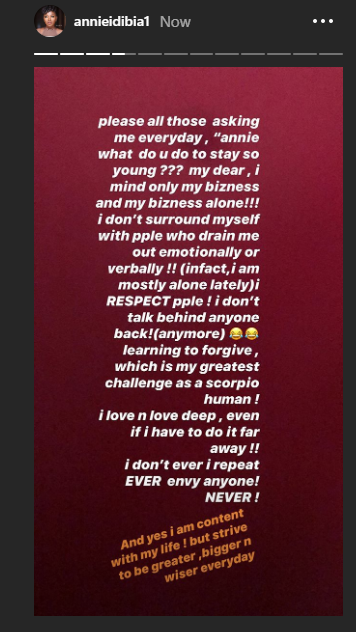 READ ALSO: How To Stop Your Child From Gossiping
Well said Annie, especially the ability to forgive.