'Don't pity single moms' -Nigerian Actress/ Mom, Biodun Okeowo Admonishes All In Simple But Telling Terms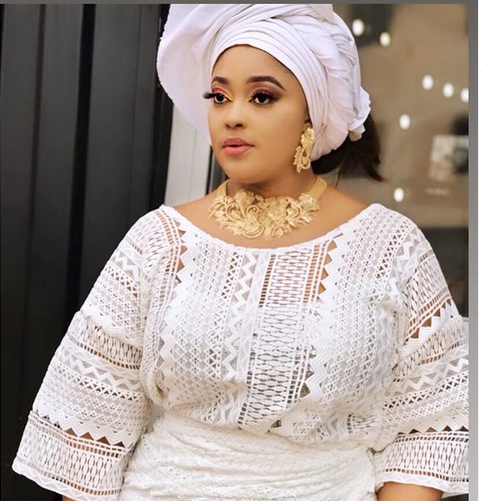 https://www.instagram.com/p/ByC2TMNFDxm/
Regardless of your marital status, motherhood is hard. But single moms just may have it tougher, though not for the reason you'd think: Too often, they face tough questions and judgment just because they lack a spouse. Sometimes, they are pitied for ending up as a single mother.
However, popular Yoruba actress who is also a proud single mom-of-two grown ups, Biodun Okeowo A.K.A Omoborty has given reasons why no one should pity a single mother because of their status. In her words, people should rather respect them for having the courage to take up the responsibilities of single parenting.
"Don't pity single moms because they are single mum. Respect them for having the courage to do it all alone, the strength to never give up and the love to put their child (ren) needs before their."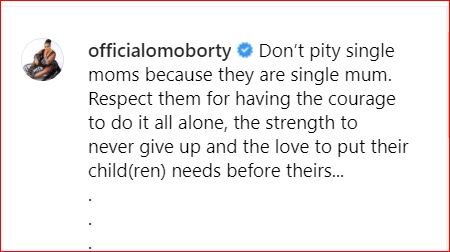 Biodun, a successful businesswoman is beautiful and so curvy that you would swear she went under the knife but she explains how the curves came about.
She recently completed her mansion in Ojodu, which also houses her Victoria Beauty Palace, which deals with all Skincare products.
The gorgeous mom of 2 recently spoke with City People Magazine where she explained why she went into skincare business. She also talked about why she was forced into taking a two year break from acting, how she survived and how she cried when her kids were thrown out of school.
How long did it take you to build this house?
To build took 6 months, then putting finishing tough and everything other things, it took 10 months in all.
What really inspired Victoria Beauty Palace?
There was a time I had a quest to do business because I was not getting movie jobs, I had issues with the marketers, so they stopped calling me for movie roles, so I was like Ah, won't I die of hunger with my two kids and my aged mother, may almighty God grant her eternal rest. Then to glory be to God.
This helper came along and he was like, what would you like to do aside acting, I don't believe in lying about anything, people who are close to me will tell you that I am always as sincere as ever.
So, when he asked me, what do I want to do apart from acting, I said I would like to go into business, this good samaritan was like okay no problem, have this.
It was not something huge but I utilised it very well, I started selling creams, wigs, makeup, clothes, jewelry and everything, so, when customers come into my shop, they are always like please what are you using, and they are always like, can't you be selling what you are using to us, so we can have your kind of skin, I always tell them, I don't know how to make cream, and they are always like, just give us, this exact thing you are using.
So I was like, am an actress and I would not want to jump into something I really know nothing about becaue any little mistake, Press will carry it, so I had to go learn it, I leant it, I trained, after that, I started producing my own skincare products, so it is not like, I just jumped into it, so I will say my customers inspired me to go into the skin care business.
I give all glory to God, in fact I was still saying it yesterday that if I have not ventured into this business what else would I have done, glory be to God, it's not something I have any regret about.
SEE ALSO: "How an unwanted pregnancy transformed my life." Actress, Biodun Okeowo Recounts on #YetIwon
So how did you survive within that two years?
As a human being, you might just do something wrong but you won't realise it. All I use to hear from movie producers back then was that, they said, we should not call you, even producers that are my very close pals, kept saying the same thing so it went on like that for two years there was no work, and it was really terrible.
Honestly, it was really tough, I had times, my kids were sent back from school I had times, I cried and my mum will be like, don't worry, all will be well. I was crying outside because we suffered a lot. Myself, my mum and my kids.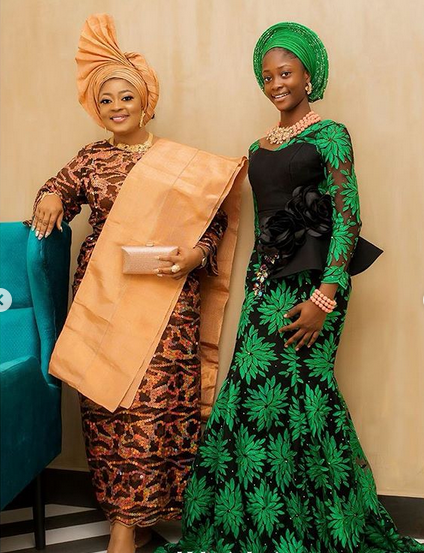 What were the things going through you mind at that particular period?
I was like, hope am not jinxed, I was really like, what is wrong with me, at a point, I went through 7 days while fasting, it was really tough, I can't really recount everything, you know what it feels like, when you have kids and you can't do lots of things for them.
As an actress, your kids are being sent back from school, and the embarrassment the children face at school, when people say words like 'your mum is an actress nah and you can't pay your fees, but I didn't have the money, I had to take them from the school, they were to a cheaper school, but still, the hardship continued. It was not as if I was not in a relationship then, but most times, things don't just happen the way we want them to.
SEE ALSO: 'I never cheated on my ex' – Actress, Biodun Okeowo On Rumoured Infidelity & More
What has life taught you despite all you have been through?
Life has taught me to be humble, prayerful, and to be patient no matter what people say to you never give up and lose hope on yourself. Just believe you can do it.
In my dictionary, there's nothing like impossibility life has taught me that I should always go for what I want irrespective of what anybody feels or think. Life has taught me, that it's just one life, my life, it is not yours.
Life has taught me, that it is just one business and it is my business and God's business and if I have to look at anybody aside God, my mum, who is already dead. If my mum, were to be alive, then I will look at my mum, then my kids, after those people, I do whatever I want to do without anybody's opinion, life has taught me to be me and be real.
A lot of people are of the opinion that from head to toe of Biodun Okeowo has gone through to plastic surgery especially the butt, how true is that?
If you go through our services, you will see body enhancement, if we go into the spa, I can show some equipment made for enhancement, am not plastic, am very real, I will say it anywhere and stand by it.
People that knew my mum will tell you, she is even bigger than me, she was way bigger than me, when I went to ebony for her casket, they were asking me, how big is she, my mum is way curvier than I am.
Years ago I was thinner, I was not this big, I have seen people challenge me and say your boobs are bigger, you did something to it, you did something to your butts. Am also like that didn't you see my arm, didn't I do anything to my arm, if you can see my boobs and butts, you should be able to see my arms as well because my arms are like tripple of what they use to be, so if you are getting bigger, everything gets bigger as well.
My sisters are here, you can look at them, would you say, they did surgery as well. Back then, no packaging, but now, there's lots of packaging, so you need to package yourself before taking pictures and all that. Back then, that one can't hardly feed, you can't think of anything packaging compared to now that things are okay. It might sound funny, but that is just the plain truth, you don't expect me to look, the way I was looking 7 years ago, it is not possible. Even as at that 7 years ago, if you have eyes, you will know that I have prospects.