Beauty & Lifestyle Influencer/ New Mom, Ronke Raji Shares 5 Tips To Lose Postpartum Belly In Two Months!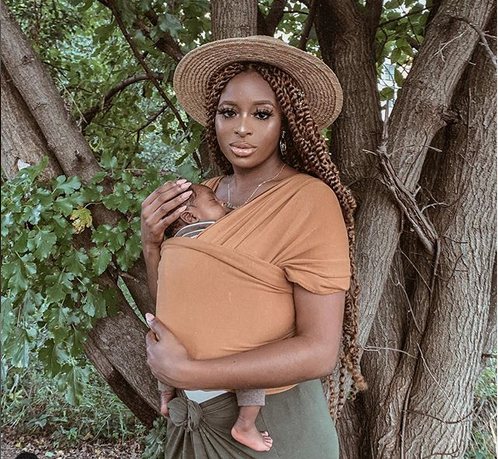 New mom, Ronke Raji is out with a new video on her channel and this time she is sharing with fellow moms how she lost her post-pregnancy belly in only two months. The beauty and lifestyle vlogger captioned a video she shared online:
"For the moms out there I had to show you guys how to lose your postpartum belly. Everyone is different and take your time with your journey!"
Below are the tips Ronke who welcomed her baby boy, Amari (Amari' is from African-Yoruba origins and means 'strength', and is used chiefly in the English language. It also means promised by God) in July shared:
READ ALSO: Mom-Of-3, ChaCha Eke Faani Shares, Simple Unorthodox Tips To Snap Back Shortly After Delivery
Tip 1: Eat healthy while you are actually pregnant.
Tip 2: Massage your belly with hot water daily after birth.
Tip 3: Bind your stomach either by tying or wearing a band.
Tip 4: Breastfeed if you can, it burns about 500 calories a day which in turn leads to weight reduction.
Tip 5: Go to the gym but do mostly cardio.
READ ALSO: 9 Effective Ways To Tighten Your Belly After Pregnancy
Watch her speak below…