It's RSV Season! Mom Raises Awareness On The Dangers Of Kissing Babies After She Almost Lost Her Infant To The Virus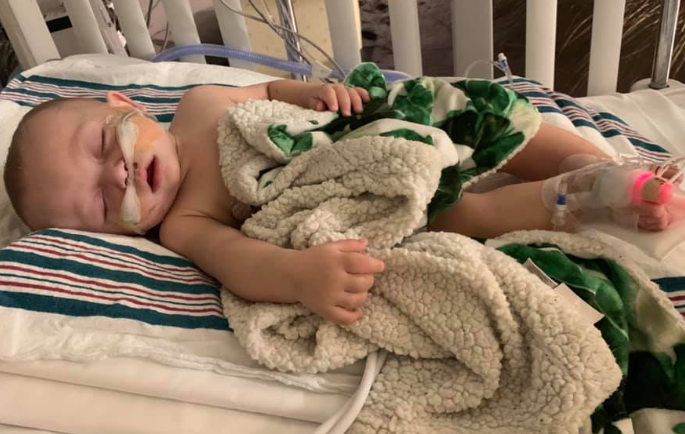 In the midst of the devastating ordeal, a New Jersey mom whose child was hospitalized with a respiratory virus is raising awareness about her infant's condition and remind sick people to steer clear of babies as flu season approaches.
Ariana DiGrigorio of Keansburg, recently took to Facebook to share a photo of her son, Antonio hooked up to machines in a hospital crib. The 8-month-old was admitted into Jersey Shore University Medical Center's pediatric intensive care unit for respiratory syncytial virus, or RSV, earlier this year. She wrote on her page:
"RSV season. Adults- you are contagious up to 24 hours before you start showing symptoms! Please keep your mouths/breaths away from a baby's face, hands, and feet. Don't be the reason a baby is hospitalized (or dead) because the baby was "just so cute I had to kiss her!".

It's super awkward as a parent to have to tell someone (especially a family member or friend) to step away from your baby. It's also super difficult to stop someone from kissing your child after they're already going in for the kiss.

Don't be selfish. Don't kiss babies. It's not worth it.

Also, if you're sick, please stay home. What might be a "sinus infection" or "allergies" to you, could translate to a life-threatening illness for a baby. Flashback to AJ in the hospital @ 8 months old with RSV."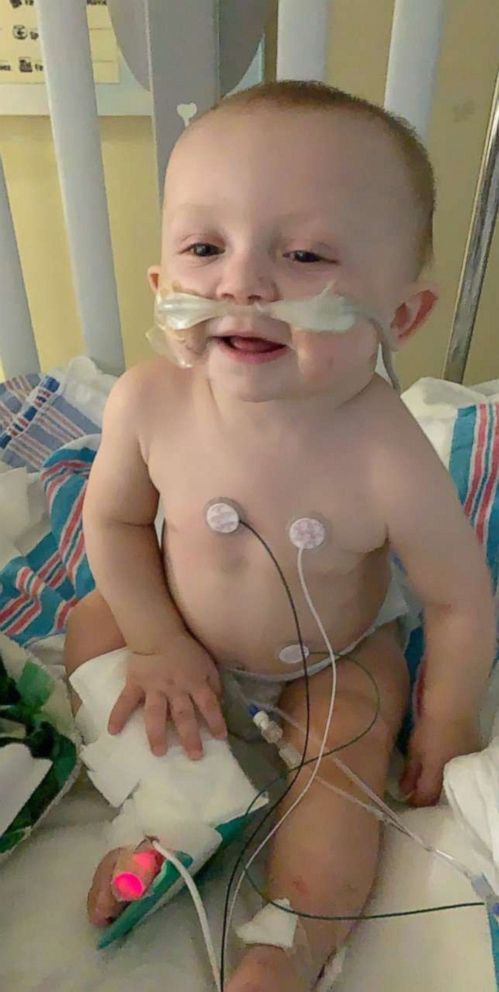 SEE ALSO: "Don't let people kiss your new born baby" – A Mother Warns After Losing Her New Born Baby
RSV causes infections of the lungs and respiratory tract, according to the Mayo Clinic. DiGrigorio, a mother of four, told Good Morning America:
"It was scary. Before he was transferred into the ICU he was in a regular room and he went into respiratory failure. They said [he] was doing better with Albuterol [breathing] treatments they were giving him and then it went downhill from there."
"I attribute it to the fact that he was in daycare, ended up with the flu and it progressed from there," DiGrigorio said, adding that Antonio was at Hackensack Meridian Health Riverview Medical Center in Redbank before spending six days in ICU.
Antonio received breathing treatments and was on a respiratory ventilator. Dr. Saumya Bhutani, a resident in ABC News' Medical Unit, told "GMA" most children have been infected by RSV by the age of 2, but it can also infect adults. The expert said:
"RSV is most common from December to March. It is very contagious and kids can get it from 'respiratory droplets,' basically meaning from the droplets of someone's cough or sneeze, whether those droplets directly get into a child's mouth, eyes,or nose or, the child touches surfaces like tables, cribs or toys that have those droplets on them."
"Thus, daycares have the potential to be large breeding grounds for the infection," Bhutani said, adding RSV rarely results in death unless the child has very complicated medical conditions.
The Center for Disease Control says people RSV are usually contagious for three to eight days. The Center states on its website:
SEE ALSO: Mum-Of-One, Toolz Oniru, Reiterates Her Stance On Herpes And Kissing Newborns In New Instagram Post
"However, some infants, and people with weakened immune systems, can continue to spread the virus even after they stop showing symptoms, for as long as four weeks."
Young children and adults with compromised immune systems are at higher risk of RSV infection, according to the CDC.
After Antonio's health scare, DiGrigorio shared a photo of the ordeal on Facebook in hopes to remind others to stay away from babies when they're sick. Her post was re-shared 20,000 times. She said:
"I wanted to spread awareness of the seriousness of RSV, plus I just had another baby son am trying to prevent what happened to [Antonio] from happening to him.

I got a lot of positive feedback and thanks for sharing … because not a lot of people know a lot of information about it. I figured if I make people aware that my son contracted it later and not at a few weeks old, [they'd know] it can happen to anyone at any age."
Today, Antonio sees a respiratory physician every few months and received breathing treatments every four hours. DiGrigorio said this was an aftermath of the RSV Antonio contracted last year.
If you suspect your child is ill, first consult your pediatrician. Here's more on RSV, according to Bhutani, plus preventative measures to take during flu season:
Symptoms of RSV
First two to four days: fever, runny nose, congestion.
Later on: cough, wheezing, and sometimes trouble with breathing.
Preventing RSV
Always wash your hands, especially before and after contacting someone with the infection.
Clean surfaces.
Avoid contact with those who may be infected.
Infants who are either born preterm (less than 29 weeks) or born with chronic lung disease may require a vaccine to prevent RSV since they are at risk of developing more complications from it. Parents should discuss this with their pediatrician.
Treating RSV
Make sure the baby is hydrated and eating.
Parents can use Tylenol or Motrin for fevers.
Infants and toddlers can be treated at home unless they start to have difficulty breathing.
Bhutani said parents should contact their pediatrician and/or take their child to the emergency room if the child appears to be showing the following signs:
1. Using their belly or neck muscles when breathing.
2. If their nose flares when breathing.
3. If they are breathing very quickly.