Motherhood, Feminism & Style: Prolific Nigerian Author, Chimamanda Ngozi Adichie Bares It All In Vogue Korea Feature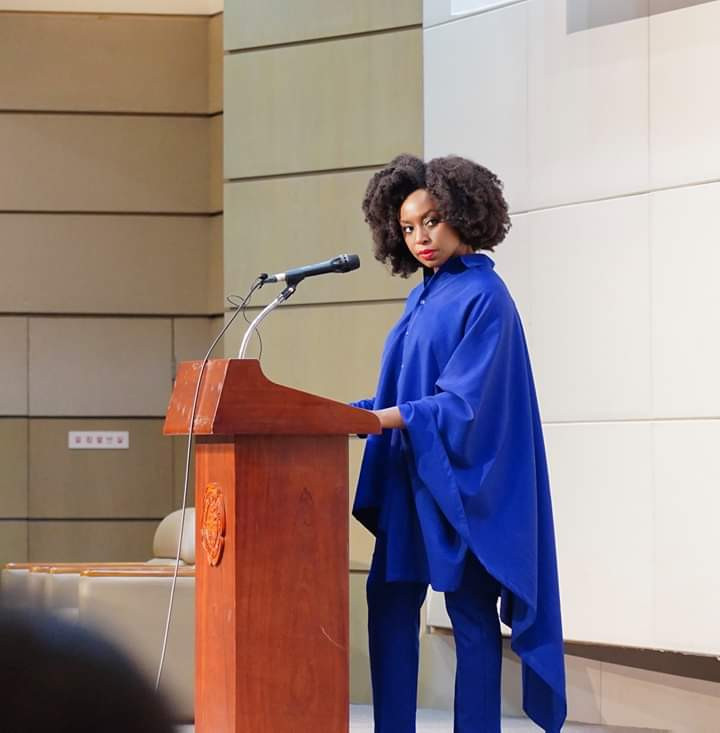 Nigerian-American writer and public speaker, Chimamanda Ngozi Adichie is the latest feature for Vogue Korea and she came baring it all on all the subjects that are close to her heart, from fashion to motherhood, and the #MeToo movement.
As an icon of feminism that has sparked a dialogue on the movement all over the world, Chimamanda opened up on what feminism is, the #MeToo movement and raising her daughter in a male-dominated world. She also spoke about what style means to her and lots more.
READ ALSO: In True Spirit of Feminism, Chimamanda Adichie Voices Her Thoughts on Chivalry and It's Dividing the Internet Again
Speaking On Motherhood:
So becoming a mother has brought an incredible amount of joy into my life. I have experienced the kind of love that I just didn't know existed.

But I also no longer own my time and I think it is really the most significant change that has happened to me since I had a child,

that in some ways I have to to consider her all the time – everything I do – and so my time no longer belongs to me.
On We Should All Be Feminists:
I think there's been a lot of progress. I think that in the past seven years there's been more women, particularly young women who identify as feminist than who did not seven years ago.

I think feminism is becoming part of the global conversation in a way that it wasn't seven years ago and so I feel very optimistic.
On the MeToo Movement:
World domination (laughs). That's the ideal next next step. But I think the real, more practical next step is that the MeToo movement has done a lot but I think there's still more to be done,

and women still need to feel that they can tell their stories and be believed and also that they shouldn't expect to have backlash.

I think there's still a lot left to do in the MeToo Movement.
On Fashion & Feminism:
I spend way too much time thinking about what to wear. That's a problem because (Laughs)…Because it means I haven't finished my novel.

No. I think for me, fashion is joyous and joyful and it's really about me wearing what I like. I'm not interested in what is supposed to be fashionable or a trend.

If I like it, I wear it. And for me as well, fashion is a way of sort-of putting on the armour with which I face the world.

When I'm well dressed in general, when I like what I'm wearing, I just generally feel better and more confident and more willing to go out into the world and do my work.
Watch the video below: