Queen Anu Adeyemi Opens Up About What It Feels Like To Be Married To 81-Year-Old Alaafin Of Oyo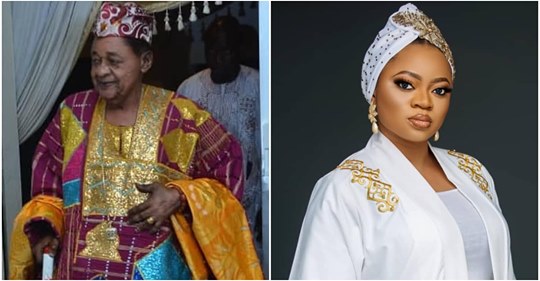 One of the wives of the Alaafin of Oyo, Oba Lamidi Adeyemi, identified as Queen Anuoluwapo R. Adeyemi, has recently opened up about what if feels like to be married to royalty.
The young woman who has gotten the attention of many with her beauty and style had a chat with City People, and she had a lot to reveal, particularly about her private life.
Fielding a question about what if feels like to be a queen to the highly revered traditional monarch, the fair-skinned queen submitted that it is a nice feeling. She pointed out that it is a big responsibility, considering the fact that she has to be involved in the affairs of the palace. She, however, noted that being married to the Alaafin of Oyo, has changed her life.
The young queen also disclosed that she had her early education in Ibadan, made it known that she is currently pursuing an academic career in political science at the prestigious University of Ibadan, and is in her third year.
SEE ALSO: Photos: Olofin Of Oyo causes a stir in London as he goes shopping with four wives
See excerpts:
What has life been like as an Oloori of one of the respected traditional rulers in Yorubaland?
My Names are Ayaba (Queen) Anuoluwapo R. Adeyemi. I'm from Osun state Ede town to be precise. I was born and bred in Ibadan. I was born in the 1990s, I attended IMG moor plantation for my primary school education. I finished my secondary school education from BENATAD ROYAL College Johnson Awe Oluyole Ibadan.
I'm currently studying Political Science at the University Of Ibadan I'm in 300 Level.
I developed my fashion by reading different fashion Magazine, checking different fashion blogs on INSTAGRAM and have always loved fashion since I was very small I love colors and when you do you will be able to combine different designs and it will come out well.
To be sincere I believe in the saying that uneasy lies the heads that wears a crown. It hasn't been easy since I wasn't born into it but I believe nobody was born into something but we try and develop ourselves whenever we find ourselves in such positions or situations.
Basically I thank God even though it has been demanding but at the same time it has been easy too.
Being Alaafin's wife has groomed me Culturally. It has been nice. We have all adjusted to it. It is a big responsibility. As an Olori you have a role to play in the affairs of the palace.
READ ALSO: The Royal Life: Olori Sekinat Elegushi Spills On Marriage & Motherhood
Does she run a personal business? No, she says.
Not easy running a personal business because all the Ayabas have their traditional responsible roles. I do charity work through my foundation underground. Glory be to God, I have grown to appreciate little things in life.