Actress & 1st-Time Mom, Esther Ene Relishes Joy Of Motherhood: 'You're my answered prayers'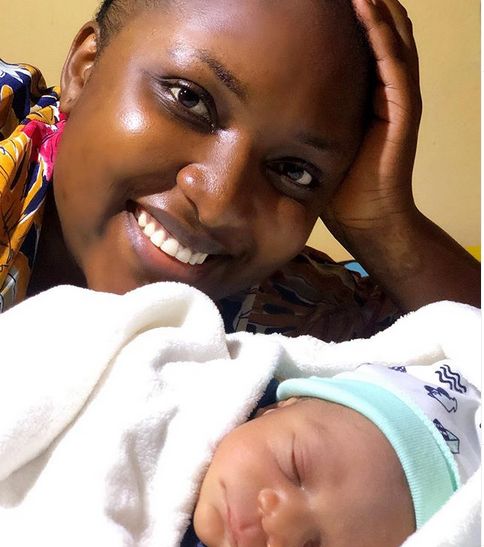 https://www.instagram.com/p/B3T8x4glukX/
Nollywood actress, who recently welcomed a baby boy after three years of marriage, Esther Ene has been relishing the joy of her new status as a new mother.
In an Instagram post on Monday, the new mum expressed how joyful it feels just looking at her baby boy and knowing that he is hers.
She added that though it is a bit hectic having to cope with sleepless nights and 30min intervals of breastfeeding, she still loves every bit of it. She shared the photo above and wrote:
READ ALSO: Janet Jackson Discusses Motherhood For the First Time Since She Welcomed Son, Eissa
"The greatest feeling in my whole existence is just looking at you my boy and knowing you are mine and I am your mother. Even with the sleepless nights and 30min intervals of breastfeeding I still love every bit of it, an experience I will not trade for silver or gold or anything in this world.

Chevaughn Ojire @ojirechevaughn You have brought me so much joy and fulfillment, your daddy and I love you so much. I pray to God to provide us the resources and strength to give you the best of life.

You are blessed and protected, the arm of the Lord surround you. No evil eyes will befall, see or come near you. You are my answered prayers ????. Signed _____your mother.

Who am I that you are mindful of me. You make all things beautiful and perfect in your time. So grateful for finding me worthy to be a mother, greatest gift of all."
READ ALSO: Joy Ehonwa Who Won The Battle Against Pre-eclampsia Shares 15 Things Expecting Parents Should Know About The Condition & How To Manage It
Esther Ene and her hubby, Philip Ojire got married in July 2016 and they welcomed their bundle of joy earlier this month.