"The way Mike is being hyped shows how damaged we are" -Actress Kemi Lala Akindoju Says The EX-BBN Housemate Did Nothing Extraordinary By Honouring His Marriage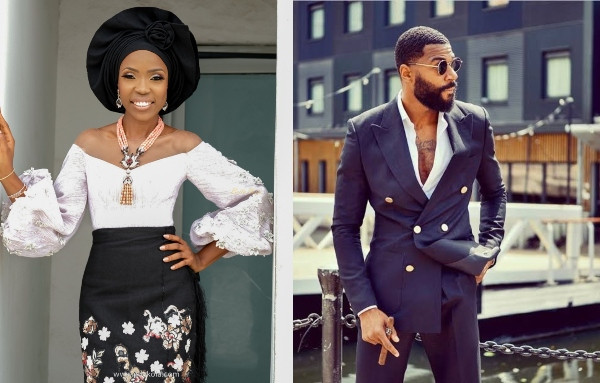 Nollywood actress, Kemi Lala Akindoju took a dig at the hype that ex-BBN housemate Mike has been getting for how well he conducted  himself as a married man in the Big Brother House. UK-based Mike Olayemi Edwards was the only married housemate in the just concluded BigBrotherNaija Season 4 and he earned accolades from the public not only for his spirit of sportsmanship among other qualities, but his ability to remain faithful to his young marriage despite living in the same house with beautiful housemates for 99 days is why Nigerians praised him the most.
While we all understand what marriage is a commitment that must be honoured and that no one really deserves a medal for honouring theirs, Mike has been praised endlessly nonetheless because the narrative that men lack the natural capacity to be committed to their relationships has been sold to Nigerian women for so long that many saw Mike's otherwise normal behaviour as a thing to celebrate.
READ ALSO: Not All Men Are Beasts Series: Just When I Thought There Was Something Wrong With My Man
Married actress, Kemi Lala Akindoju seemed to have had enough of the praises and she took to her Twitter handle to bare her mind on the subject. According to her,  people shouldn't be celebrated for behaving normally, as a man in a committed relationship especially marriage is expected to respect his vow and his wife. She averred that the way Mike is being hyped shows we are damaged and used to bad behaviour as a people.
She tweeted;
The way Mike is being hyped for how he carried himself in the house shows how damaged we are. When a man is in a committed relationship, especially marriage, he should respect his vows and his wife. We shouldn't celebrate people for behaving normally. We are used to bad behavior.
See the screenshot below: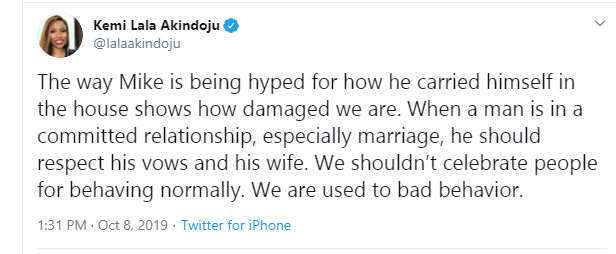 Mike married his wife, Perri in May this year, just about a month to his entry into the Big Brother house.