OAP, Toke Makinwa Disproves Of American Rapper, Snoop Dogg's Narrative That Women Should Accept Suffering First Before Love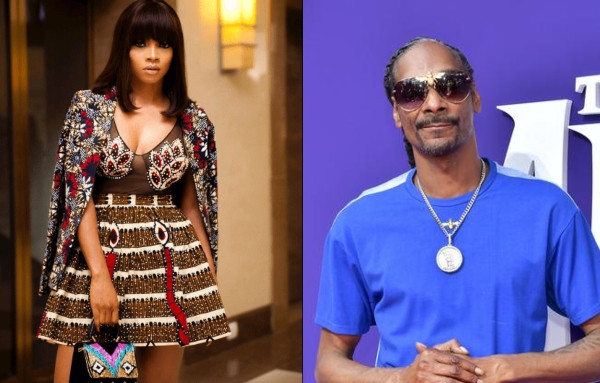 OAP Toke Makinwa took a dig at American rapper and dad-of-four, Calvin Cordozar Broadus Jr. aka Snoop Dogg over an Instagram post he shared on rapper Gucci Mane and Keyshia Ka'oir's marriage. Gucci and his wife had the most opulent wedding last year, with Mane spending a staggering amount of money to make sure his bride had the wedding of her dreams.
The couple did make an impression on the world with their expensive wedding, and apparently they had been together for a long time and Mane had not been in his best behaviour but somehow Keyshia tolerated his excesses which seemed like a lot and Snoop deemed it wise to counsel women to endure the bad behaviour of their men and earn the kind of 'beautiful' ending that Keyshia has but Toke Makinwa completely disagrees.
Snoop Dogg had praised Gucci Mane & Keyshia Ka'oir's relationship with a meme repost. The meme had a photo of the happy couple holding hands at their wedding and a caption which read:
"Everybody wants this, But what y'all forget is she was with Wild Gucci, on drugs Gucci, cheating Gucci, in jail Gucci, publicity with other women Gucci | This is Gucci after therapy / rehabilitation | This is a street Man Groomed in his 30's after he's been at his lowest | Point, this is a RIDER who knew what she signed up for, Yall other females is with another dude after a couple fights."
READ ALSO: OAP Toke Makinwa Talks Marriage, Says She Will Leave Again, If…
However reacting to the meme repost which got the support of some Instagram users, the media personality said she got pissed by the narrative. Toke Makinwa stated that the meme also promotes low self esteem which she held on to for most part of her life.
She wrote;
I am deeply tired of this narrative though, this post pissed me off soooo much, why do we like to make women look like huge jokes?

why is this the way to happiness? Why must you sell the "I suffer pass" mentality? This promotes low self esteem.

I know for the most part of my life I believed that for love to be real, it has to hurt, I believed there has to be pain and real humiliation before you find peace and that mentality is BS. That mentality made me stay in crazy situations and do the most for the wrong reasons. Let's stop pls. This is trash.

Pls show me examples of men who stayed with a cheating woman, drug addict, jail bird, publicity with other men etc.

show me a man who knew what he signed up for and even after she slept with his brothers and friends held her down till she became refined.

If we can't pick 10 men pls stop raising your daughters to hold down situations that might eventually break them, stop selling the narrative that women have to suffer before they find love.

This is ruining lives for real and it should stop.
See the screenshots below: