President Buhari's Rumoured Second Marriage To His Minister of Social Development, Sadiya Umar Farouq & What The First Lady, Aisha Buhari Said About It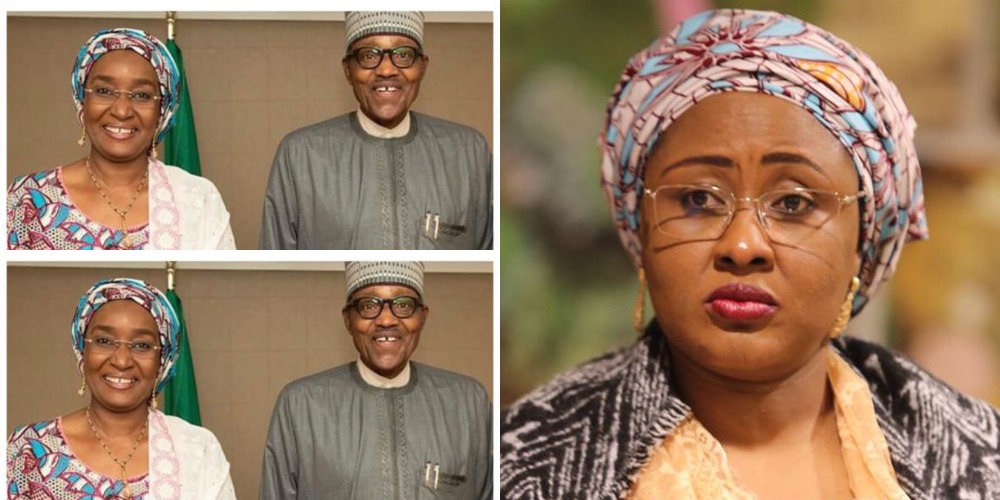 It is no longer news that Nigeria's President Muhammadu Buhari was rumoured to be all set to marry his Minister of Humanitarian Affairs, Disaster Management and Social Development, Sadiya Umar Farouq last Friday, October 11.
According to reports, Sadiya has been a friend of the president for many years and had facilitated the catering services rendered to his old political party among other duties. Sadiya has also never been married, according to reports.
Meanwhile, Nigeria's First Lady, Aisha Buhari had been away from Nigeria for over two months, not to mention the bad blood between she and her in-laws, the president's nephew, Mamman Daura and his immediate family who live in the Villa with the First Family on the invitation of the president.
The rumoured wedding never held, even as curious worshipers stormed the Central Mosque in Abuja for Friday prayers in hopes to catch a glimpse of the ceremony. Aisha Buhari, however, returned to Nigeria on Saturday and granted journalists an interview where she basically said, the fact that the rumoured marriage did not hold is not proof that it wasn't planned.
Excerpts from the interview:
Interviewer:
After you left, a lot happened and one thing in particular is the rumors of the president getting married to another. What have you got to say about this?
Aisha Buhari :
I honestly don't know what happened because I was not here. Secondly, it is Buhari they said will be getting married and not me, Aisha, so he will be in a better position to come and tell the public if it is true or false.

Meanwhile, the lady they said that he was going to marry and the person that told her the wedding was going to happen did not expect the wedding not to hold.

Because it was after she saw that the wedding did not hold that was when she deny the claims. So I am not in the position to say they will get married or not, because I am already a married woman so it's none of my business.
The embattled First Lady also confirmed that there has been significant breach of her peace and privacy because of the interference of Mamman Daura and his family.