American Television Host, Wendy Williams Calls Out New Mum, Meghan Markle For This Reason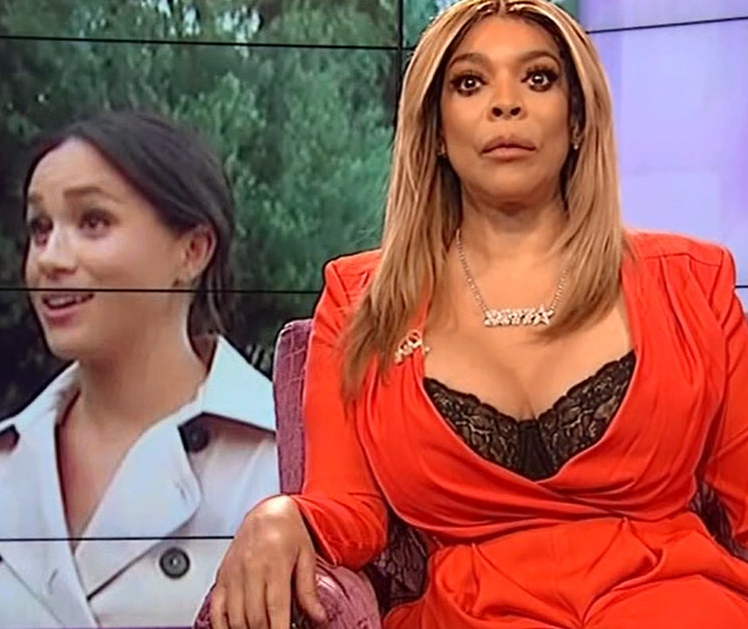 American television host, Wendy Williams has shared her thoughts on the recent outpouring of emotions by new mum and wife, the Duchess of Sussex, Meghan Markle.
Meghan made news last week after she revealed in an interview that she was been vilified by the British press and all of it had taken an effect on her as a new wife and mum. While many people have backed the Duchess, Wendy has dismissed all of Meghan's claims of emotional abuse by the press as "trying to garner sympathy".
The host of The Wendy Williams Show ripped into Meghan on Tuesday's edition of her show. Wendy, 55, suggested Meghan, 38, was lying about her British friends warning her off Prince Harry "for us to give her sympathy".
Wendy said:
"You knew exactly what you were doing. And I applaud her plot-ation on the royal situation. But please, don't try to garner sympathy from us. You knew what you were doing."
Wendy then suggested that since Harry and Meghan won't be King and Queen, they should move to the US and split their time between the United States, England and "a hut in Africa".
She continued:
"I like them, I really do like them, but her? There's something about her. You know what I'm saying?

Meghan, don't be surprised that the paparazzi are everywhere, of course, because you're now a royal.

They weren't following you when you were on Suits – we didn't even know who you were, except when you came for employment here at Wendy, and wanted to be one of our runway models."
Wendy's producer Suzanne then explained that Meghan had called up Wendy's show organizers and proposed that she feature as a "fashion expert and do the runway".
READ ALSO: British Royal Wife & Mum, Meghan Markle Admits She Was Warned Against Marrying Prince Harry
Wendy added:
"They thought she'd be perfect to do it. But by the time we decided to book her, she was already engaged.

"Here's the thing. Every celebrity has their own relationship with the paparazzi. Yesterday, the paparazzi was outside this studio, waiting for me."
Wendy again added that she "understands the job" the paparazzi have to do. Then says,
"But Meghan Markle, nobody feels sorry for you, you knew what you were signing up for, girl."
Wendy's rant comes after the Duchess of Sussex opened up about her struggles in the spotlight after marrying Prince Harry in May 2018, in the ITV documentary Harry & Meghan: An African Journey which aired on Sunday night.
In the documentary, Meghan said:
"It's hard. I don't think anybody could understand that, but in all fairness I had no idea, which probably sounds difficult to understand

… but when I first met my now-husband my friends were really happy because I was so happy, but my British friends said to me,

'I'm sure he's great but you shouldn't do it because the British tabloids will destroy your life'."
Watch the video below: