Beautiful Love Story Of 96-Year-Old Pa Munse-Bwaye And His 73-Year-Old Bride, Rukaya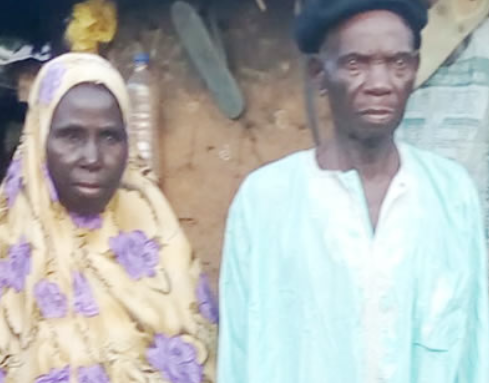 Young love is such a pleasant sight to behold, and so is old love; the type of love that lies in between the two extremes is what many believe is topic for another day. Kiyi village in the Kwali Area council in Abuja was recently in a celebratory mood as two elderly people found love with each other and deemed it beautiful to seal their love in marriage despite being at what many would call the twilight of their lives.
At 96 years-old Pa AbdRahman Munse-Bwaye just got married to his lover, 73 year-old Rukaya Yamwa-Piri, on October 17th. Pa Munse-Bwaye was a widower before he met Rikaya, fell in love with her and decided to make her his wife.
In a chat with NAN, Pa Munse-Bwaye who is the oldest man in Kiyi village in Kuje Council Area Abuja, said despite the fact that he had grownup children who had wives that took care of him, he wanted his own wife as no woman would be able to take care of him like his own wife.
READ ALSO: Read The Amazing Love Story Of How 73-Year-Old Matthew Wed 63-Year-Old Abosede In Kaduna After A 50-Year-Timeline
According to him, many people tried to talk him out of getting married again but he decided to stick to his decision as he loved Rukaya so much he wanted her as a wife.
Pa Munse-Bwaye's first wife, Hajia Zainab Godobe, died in 2008.
"Though, I married a widow, Salamatu, after my wife's death, her children took her away some years ago leaving me without a wife, hence, I asked Rukayah to marry me and Allah made her to accept, I am very happy.''
he said
On her part, Rukaya expressed joy at getting married to a gentle man like Pa Munse.