OAP Omotunde David ( Lolo 1) On Her Career, Life As A Single Mum-of-Four, Plus What Traits Make Her Ideal Man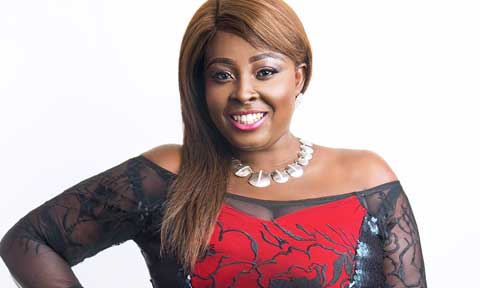 She has thrilled and inspired millions of radio listeners across the country, she has also kept us glued to our TV screens as an actress, professional broadcaster and mum-of-four, Omotunde Adebowale aka Lolo 1 is obviously a woman of many parts.
In a recent interview with Sunnewsonline, the vivacious mum talked about her realities building a career, being a solo mum to her four kids, why she has not given up on finding love again, plus what traits she's looking for in the man of her dreams.
READ ALSO: Video Of A Little Girl Strutting Down A Runway Causes OAP Lolo, Of Wazobia FM To Raise Some Valid Questions On Parenting
Read excerpts from the interview:
On career:
I started out with Metro (FM) where I cut my teeth. That was where I went on air for the first time with Modele Ope and met the likes of Delight Alfred, Frank Edoho and Charles Anozodo. Wazobia FM changed a lot for me.  I had my first set of awards and the job gave me access to big names and celebrities. I don't think there is any A-list artiste that I have not interviewed. I had the privilege of interviewing ambassadors and even the vice president and traveled extensively. It has been an amazing and rewarding journey with so many high points.
Even though, the black beauty is one of our favourite radio voices in pidgin, she says, it wasn't always so easy
When I started pidgin broadcasting, I had an experience. I have done English programming for a long time hence pidgin challenged me at first.

I was on Cool FM, doubling as a newsreader when I called Roger Federer 'Roger Federerer'. Before I knew it, it was in the newspapers how terrible the newscaster was! How I couldn't pronounce Roger Federer right.

It was in a national daily, so you can imagine how devastating it was for me. I remember another instance when I was on radio as a new broadcaster and someone said 'get that person off the air. She doesn't know how to speak pidgin'.
READ ALSO:Lolo One Talks On Being A Single Mom-Of-4 & Marriage | Her Advice To Young Couples Deserves A Thumbs Up
On being a single mum to four amazing kids, here's what Motunde had to say:
Being a single mum has been one of the most challenging roles in my life. It is a situation that nobody desires, but when life happens, you take it as it comes and move on.

I always tell everyone it is not easy, so stop labeling any woman or a mother that is nurturing her children on her own.

It is not a disease; it is a state of being. You can't label people just because they are single, married, divorced, aged, coloured or whatever.

We just have to treat everyone like the unique individuals they are. I don't consider myself different because I am a woman.

I consider myself hardworking and a human being; it is not really about my gender. It is tough raising children on your own or being a single mum, but life throws different kinds of challenges on our way. So, the best to do is know your situation, deal with it and live above it.
On giving love another chance? Hear her out:
I am a hopeless romantic. Until you are dead, you can never stop believing. I'm believing God for a second chance and trusting that everything will work out at its own time.

I am not in a rush; I just want everything to happen, as it should. So, of course, I want to give love another chance. My ideal man has changed from when I was much younger.

Now, I would really, really want to get together with a man that is extremely adventurous, that loves nature, that loves God above everything and also would love my children.

I am talking about a man that knows who he is so he doesn't get swallowed by my 'mild, huge personality' (laughter). I am about physical features but I don't like fat men, though.

I don't mind somebody that is very athletic, because if he is keeping fit, that means he is going to help me keep fit too. However, I take all other considerations as I see the person because whatever standard you want, you have to be that standard yourself for it to be worthwhile.