Thoughtful Makeup Artiste, Eunice Gives Her Neighbour's Maid A Makeover For The Most Heartfelt Reason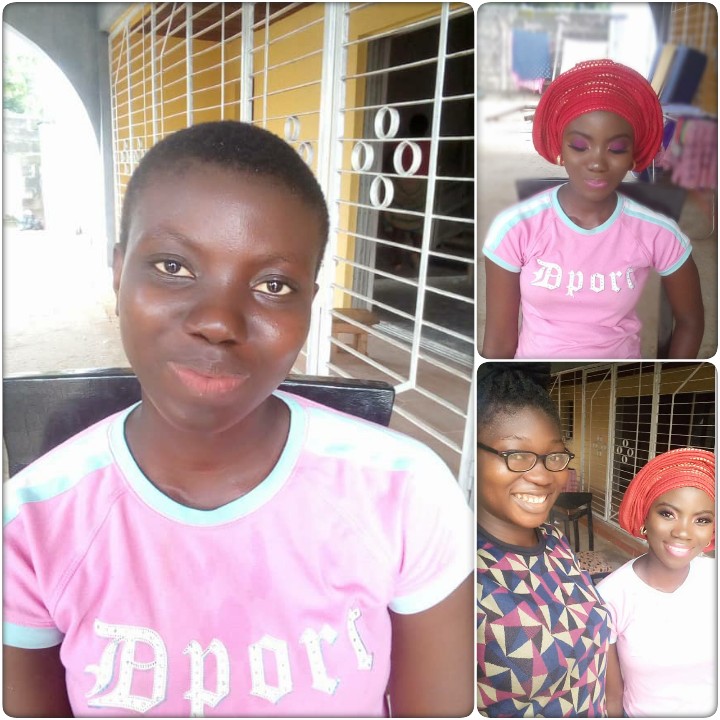 Generousity comes in different forms, sometimes even a good thought can be rich in virtue and that's what a Nigerian makeup artiste, Eunice demonstrated when she sought ways to lift a young girl's sense of self in her neighbourhood. Eunice took to her Twitter handle @EuniceJossy to share how it bothered her that her neighbour's maid, Ngozi was constantly derided by her employer.
Seeing that the young girl could be affected by all of her employer's misdemeanours, the makeup artiste thought to give Ngozi a makeover to improve her perception of herself despite her immediate circumstances.
READ ALSO: Twitter User, Jimoh Okunade Calls Out A Neighbour Who Did This To Her Maid
According to Eunice, she did not have much to give but she put her makeup skills to good use and helped show the young girl what a future could look like, she also shared that she plans to train the teenager in the art of makeup, so she can have some skill for self-reliance.
Read Eunice's full post:
Today I was blessed with the opportunity to make a young girl see herself as she should. She's a maid to my neighbor. I've seen her get beaten,insulted,cursed-including wished death,accused wrongly,abused in many ways for no just cause.

Today her "Auntie" called her ugly. I was Enraged. So here's what I did. I went to the woman and told her I just bought a new foundation and I'd like her permission to test it on Ngozi's face. She couldn't refuse me.

So when she was done with her chores,I asked her to come out. Guess what? Milady was hiding behind the ..door.

I asked why,she wouldn't reply. Another girl in the compound laughing,told me that Ngozi said she's scared because it's not going to be fine and everyone would laugh at her. I literally had to drag her out.

Then she ran back inside to wear her best cloth.i sent the .. onlookers away so that she wouldn't feel uncomfortable. Halfway through the make-up,they all came back,oohing and ahhing, saying they never thought she could look so beautiful.

But what amazed me was the fact that they couldn't see all that without the makeup.

This girl has a beautiful body, believe me! By the time I was done,she was almost tearing up. She couldn't say a word,with all the gushing the neighbors were doing. She couldn't stop looking at the mirror. When the euphoria reduced,I had a little chat with her about the future

This was after an hour of drumming it in her hearing how gorgeous she is. Long story short,we have a plan. I don't have a million bucks,but I can teach her makeup. Adding some other skills, someday she'll make enough money to go to the university. My day is made!
See Eunice's original thread
Today I was blessed with the opportunity to make a young girl see herself as she should.
She's a maid to my neighbor. I've seen her get beaten,insulted,cursed-including wished death,accused wrongly,abused in many ways for no just cause. Today her "Auntie" called her ugly. I was? pic.twitter.com/KNuJKpQUhs

— Eunice Jossy (@EuniceJossy) October 26, 2019