'Call it desperate or determined, I wasn't ready to leave him until he blessed me' – OAP, Ayo Mairo -Ese's Marriage Testimony Will Boost Your Faith In God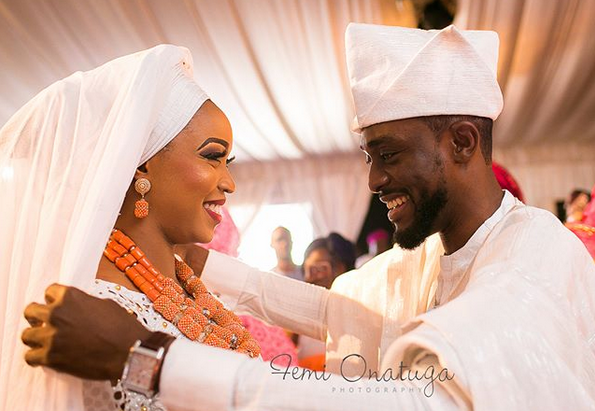 https://www.instagram.com/p/BdY10EUh1jv/?taken-by=ayomairoese
In November two years ago, on-air personality, Ayo Thompson tied the knot with her gospel singer husband, Mairo Ese.
But behind that marriage is a testimony that the award winning TV Presenter & Radio Host shared on her Instagram page and it is worth reading.
Read below…
"This time last year, I had no clue about the pleasant surprise waiting for me in 2017!

I have to say though that I was resolute, ready to take it by force (but of course we know, it's not of him that willeth nor of him that runneth, but GOD that showeth mercy! Rom 9:16 ). When we were asked to pray for Christmas present, New Year present and even Birthday present in church, all I asked God was to give me my husband.
READ ALSO: Private: 'Don't pray for a man who is faithful to you' –Actor, Deyemi Okanlawon Gives His Two Cents On Marriage Based On His Experience Over The Past 6 Years
Call it desperate or determined, I was not ready to leave Him until He blessed me! I was also not willing to settle as I wanted a spectacular man and a spectacular wedding + marriage. You see I felt I had been taking it too 'easy' in my desire so I needed to take it up a notch (is it not God that asked us to ask/seek/knock? Luke 11:9-11) ……

Boy did He answer in spectacular fashion! Indeed when it happened I was like please let's slow it down…. I'm not sure I'm ready for it to be this quick!! Lol (See what happened there? I was praying, yet not prepared for the answer!). Thank God I fixed up sharply and aligned myself with the quick work God was doing! …

That's just an abridged version of the story but here I am to say THANK YOU JESUS for my SPECTACULAR man! Also, to encourage everyone reading this that might need to see this – Be wild and bold in your asking! Don't limit God. Don't mince words, don't be shy about it.

He's your Father and whatever concerns you, concerns Him. It's never trivial with God! He delights in giving His children good and perfect gifts. I dare you to dream big and ask the BIG God to bring it to pass!

@mairoese#Psalm37v4/5#GodGreatGod#SliceofHeaven17#TimesandSeasonsInHisHands#SpectacularGod #TheOnlyGod#IBoldlyDeclareIt!!"
READ ALSO: "God please take away this wealth and give me children" – This Man's Testimony will Encourage You