Inspirational! Dad-Of-One, @IamEtubo's Twitter Thread Is The Dream Of Every Single Mum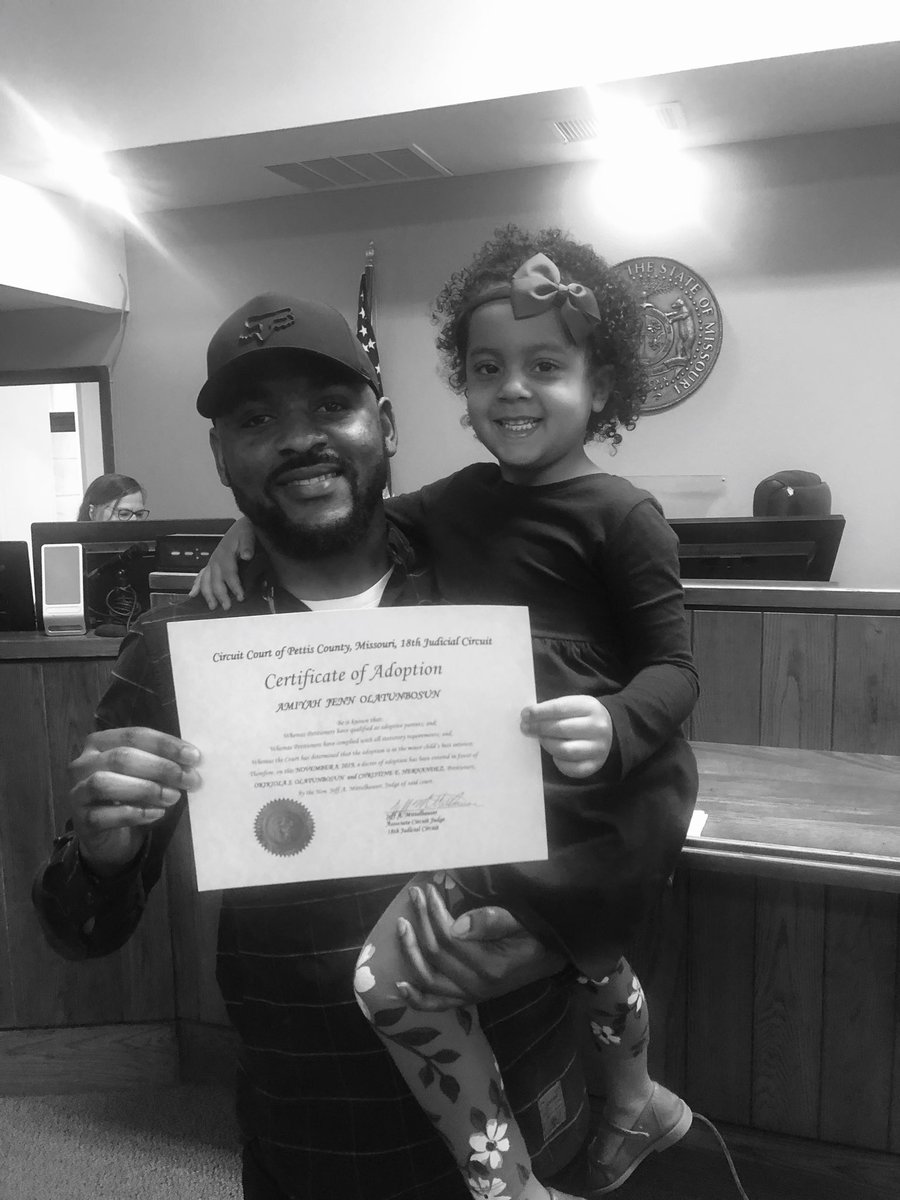 For single mums, finding love can be a lot more complicated than it is for other singles, however, one mum has providence to thank for sending her an angel in the form of a man who walked into her life some 3 years ago. Single mums obviously worry not only about finding a non-judgmental man, they worry whether their new relationship will allow their child thrive or whether it will bring untold strain on their duties as parents but the story shared by Twitter user @IamEtubo is a deviation from the rigours and fears of single motherhood, it is an uplifting, inspiring real life story of love, sacrifice and duty.
'Legendary soul' as he identifies on Twitter took to his handle @IamEtubo on the app to share the amazing story of  how he adopted his girlfriend's daughter 3 years after they first met.
READ ALSO: Newly Married Single Mum, Akasi Ndoh Encourages Single Women In A Facebook Post After She Found Love Despite The Odds Stacked Against Her
According to the aspiring cinematographer, when he met his unnamed girlfriend 3 years ago, she confided in him that she had a 7 month-old daughter and asked if that was a deal breaker for him, but it wasn't and so they were an item and two months later, she allowed him meet her daughter, Amiyah for the first time.
From meeting the little girl at the time till he officially adopted her yesterday at the age of four, everything you are about to read about their bond and family is nothing short of inspiring.
Read @IamEtubo's full thread:
'I met a lady 3 years ago, and she told me she had a 7 month old baby. She explained she was a single mother, and asked if it was a problem. I said "NO". I asked about her daughter one day…

THREAD 
She made it clear that she needed to see how serious I was about the relationship. 2 months later, she invited me to her house to meet the baby. She explained how clingy her daughter was and that she never let anyone pick her up.

I was just excited to meet her. She was adorable. 

She said "she won't even go to anyone in my family! She just wants her mama. So, don't get offended if she refuses to say hi, or cries when she sees you". I was like OKK. Around 10 pm, I got to her place and exchanged pleasantries with her family.

I whispered "where is she?"… 

She answered "come with me". The little girl was sitting by herself with her toys in her moms room. I sat down, and smiled to her. About 10 mins later, she started getting fussy,
and her mom said "I think she is ready to sleep".

She was about to pick her up. I said "wait!. 

Let me try!" I stretched my arms towards her, and miraculously, she stood, and came to me. We were shocked! Her mom ran to the living room to get her siblings. They came and yelled "what the fuck?! Dude! Where did you come from!" I sang to her and she fell asleep within 5 mins. 

Her mom called me the next morning, and said she showed her baby a picture of me. She gave a big smile. Sometimes, I would call her mom to bring her over so I could hangout with the baby. I took her everywhere with me. Together, we started building an unbreakable bond. 

One day, I asked about the baby daddy. She told me he never wanted her. But he shows up like once a month, and stays for like 10 mins, then he disappears again. About a month later, I called the dad and asked to meet with us. So, I told him "hey! I don't know why you are doing 

this to your child..

We don't need your diapers, formula or child support. All we are asking for, is this child to know she has a responsible father. You can't keep coming in and out of her life as you please! It's not fair to her!"

He explained he was looking for a job, and… how things were hard for him. I said "just show up man. Check up on her. Let her know you are her father. That's all we want" Then, he stopped returning texts, and calls "again". 2 months later, he invited his daughter his niece's birthday party. 

We honored his invitation. We got there and he started boasting of how beautiful is daughter was and all. The little baby was clingy, and wouldn't let him touch her. She cried every time he tried to. He then got frustrated. I called him again, and talked to him. 

I said "hey! This girl doesn't know you. You never show up! So why are you upset?!" He walked out on me, and forcefully carried his daughter. She started crying. So we all told him to let her be. He gave her back to me, so we left. I was furious. I looked at the baby, and asked.. 

How do you not love this beautiful girl? Why would you wanna hurt this beautiful soul? She cried to sleep. 5 minutes after we got home. We received a long text from him that said "I'm gonna stay out of her life. I am not a good father, and you are right! She deserves better. 

The support system she has is the best for her. I don't wanna screw it all. I'm stepping aside, so she can have the best care in her life" we tried to reach him. He never responded. We tried for sometime. We got nothing! It bothered me for a while. So I sat down with this little girl and promised her.

I said "Hey girrrrrl. Don't worry. I'm never gonna leave you. I will protect you like you are mine. I will never let anything happen to you. You are now my daughter, you are my friend, you are the LOML. You gave me your heart the first day I met you. I promise to keep it safe. I am your daddy. "

Her mom said "you can't say stuff like that if, you don't mean them. You just can't. I answered "who said I didn't mean them. I meant every word I said". The bond kept getting stronger. We did everything together. 

Till this moment, 95% of the people who know me, don't know I didn't birth her. Some even say she looks like me. Most of my family don't even know she isn't mine. I don't want her to be treated differently. I'm pretty sensitive when it comes to her. I have stopped talking to few people because of her.

Thou shall not Touch! I love this girl, and I promised not to break her heart. And I never WILL. Every time she smiles to me or looks at me, and ask "are you okay daddy?" Or "do you need a hug?" 

My heart melts. She is one of the very few that has my mumu button.

It breaks my heart when I remember someone walked out of her life. I am so emotional typing all these. My mom was the first person I talked to about her. I told her I wanted her to be treated like mine. I said to her "Mom! This is your granddaughter. Please, do not treat her differently."

The plan has always been to birth my own kids, and adopt at least one. Giving birth and adopting are both special and both are great ways to have a child(ren) of your own. 
So Yesterday, November 8th 2019 around 10am, I adopted Amiyah.

4 Years ago, she gave me her heart. Yesterday, I gave her my surname. ❤️
See screenshots and more photos below: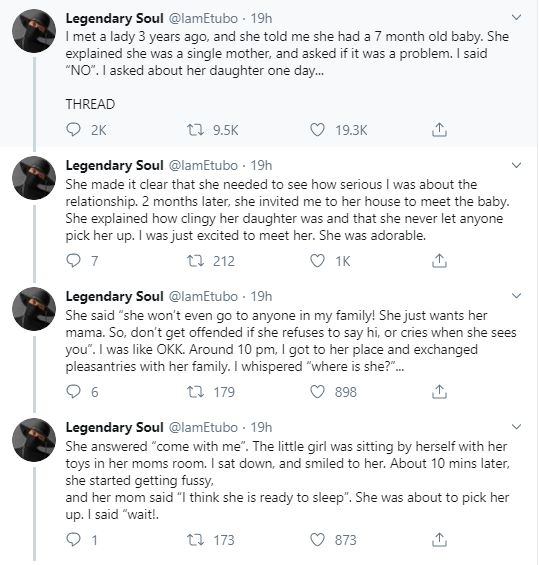 READ ALSO: Update On Single Mum-of-4, Dami Ewa-Stratton Who Made Headlines After She Found Love With A Single Is Messy
See more photos of the dad and daughter: