Hillary Clinton Shares Tips With Which New Mum, Meghan Markle Can Stay Happy Despite The British Press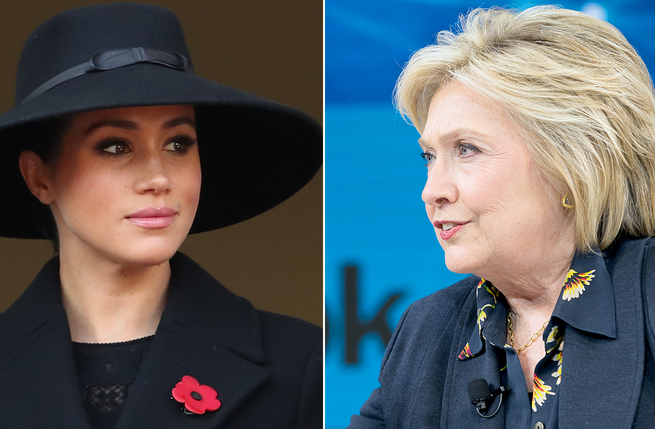 2016 US presidential candidate Hillary Clinton has spoken out in support of the Duchess of Sussex over the way the royal has been treated in the UK.  Race and gender are "absolutely" a factor, Clinton said during an interview with the BBC. The Duchess of Sussex, Meghan Markle recently said she struggled to deal with the repercussions of being a new mother in the spotlight and together with her husband is suing a British newspaper for releasing an edited version of a private letter she sent to her father.
On top of it all,  an emotional Meghan said the hostility of the British press towards her has affected her in ways that are difficult to describe, both as a newlywed and as a new mum.
READ ALSO: British Royal Wife & Mum, Meghan Markle Admits She Was Warned Against Marrying Prince Harry
Clinton in her defence of the royal wife said "race was clearly an element" in some of the comments Meghan has received on social media.
"To think that some of your 'what we would call mainstream' media actually allowed that to be printed in their pages, or amplified, was heartbreaking and wrong. I feel as a mother I just want to put my arms around her.

Oh my God, I want to hug her. I want to tell her to hang in there, don't let those bad guys get you down, keep going, do what you think is right" 
Clinton said in a joint interview on BBC Radio 5 Live alongside her daughter Chelsea.
The former first lady was full of praise for the Duchess, who she called "an amazing young woman. She has stood up for herself, she has made her own way in the world,"
said Clinton.
"And then she falls in love, and he falls in love with her, and everybody should be celebrating that because it is a true love story."
Clinton said, however, that, Meghan could benefit from learning some "techniques" like "some humor, some deflection,"
but added:
"It is tough what she is going through and I think she deserves a lot better."