This 10-Year-Old Girl's Interesting Christmas Wish List To Her Dad Will Leave You Dazed
As the year is gradually going to its end, many people anticipate the celebration of Christmas. Adults might no longer be excited about Christmas as they grow up but kids are usually very happy as the celebration comes closer because they receive gifts from their parents. Well, a dad identified as Johnson, got more than what he bargained for after his 10-year-old daughter gave him an interesting wish list for Christmas.
Apparently, Johnson's daughter is not yet aware of the realities of life as she wrote her father a Christmas list that included very expensive items that even adults only dream of getting.
The list included things like an iPhone 11, a Macbook Air, Airpods, a real bunny, Gucci slides, jewelleries, 4000 dollars, vans sneakers and more.
The amused father wrote on his twitter page: "My 10-year-old daughter must be out of her mind with this Christmas list."
READ ALSO: Hilarious And Thought-Provoking! See Why Seun Kuti Is Saying No More To Expensive Children Clothes
See the full list below: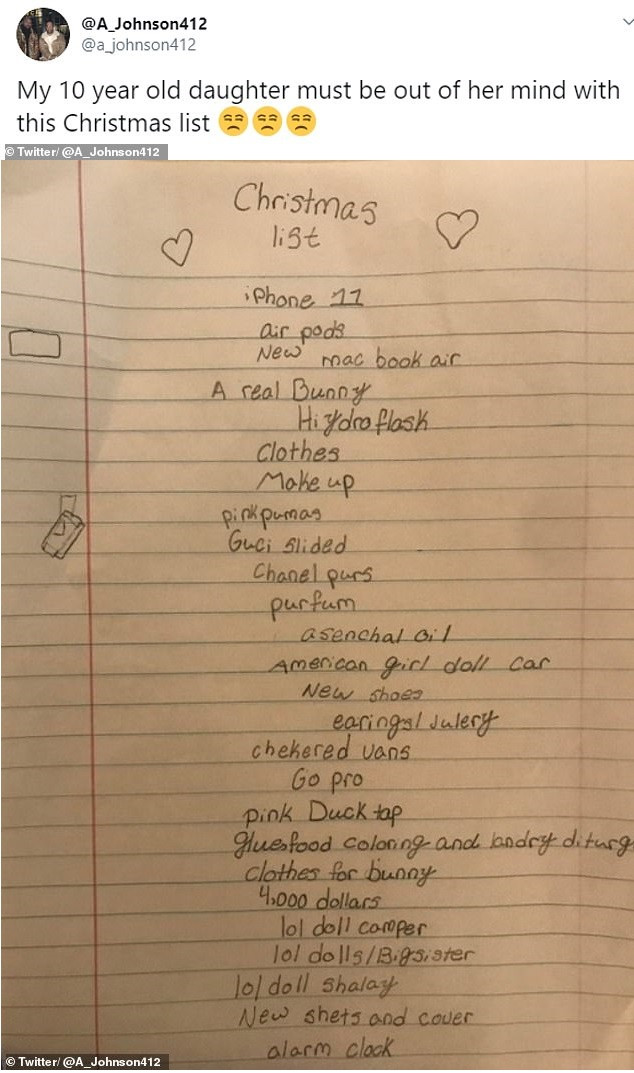 READ ALSO: 5 Fun Things To Do At Home With Your Kids This Christmas
Many social media users were quite amused by the list and they wasted no time in sharing their opinion on it.