Woman, Juliet Ehiemere, Who Claims That Singer, Flavour Is Her Daughter's Father Dares Him To A Paternity Test
A Nigerian woman has come out with claims that Igbo highlife singer, Flavour, is the father of her three year old daughter.  The woman who gave her name as Juliet Ehiemere, claims she met the musician in 2015 and became pregnant for him, shortly after.
She posted pictures of their alleged shared daughter, whose name she gave as Stephanie Chidinma Chinedu Okoli, and made it clear how difficult it has been, shouldering the responsibilities of raising 'their' daughter alone.
Juliet, in her Instagram post revealed that she is ready to face the consequences of her weighty allegation if a DNA test proves her claims wrong.
READ ALSO: Flavours 1st BabyMama, Sandra Okagbue Deletes His Tattoo'd Name From Her Hand
All she wants, according to her is for Flavour, who already has two daughters by two other women to come alive to his duties towards their daughter.
Read her full post:
"PLEASE READ My name is Juliet Oluchi Ehiemere from Abia State. I'm 33 years old.

This post will make you to do either of two things: Judge me and call me names or support me in getting justice for my daughter. I sincerely hope you do the latter. The picture you see above is the picture of my 3 years and 4 months old daughter, Stephanie Chidinma Chinedu Okoli whom I bore for Chinedu Okoli popularly known as FLAVOUR @2niteflavour

I met Flavour sometime in 2015 and took in for him. Ever since, I have made attempts to contact him but he has since then ignored me. I am not another gold digger. All I want is for Flavour to take care of his daughter. I have reported the matter to the office of the Public Defender (OPD), Lagos State.

FLAVOUR should come out for a DNA TEST. He should do the needful. If the DNA Test shows he's not the Father, I'm ready to pay for the penalties. For me to take this stand, that should tell everyone that I know what I'm saying. The pain and suffering is too much to bear and I am done keeping silent. My daughter and I can't keep suffering this way.

Please help me repost my story until Flavour sees this.

CHECK MY PREVIOUS POST PLEASE. This is my picture. Please help me share my story until something is done. I'm not afraid to show my face."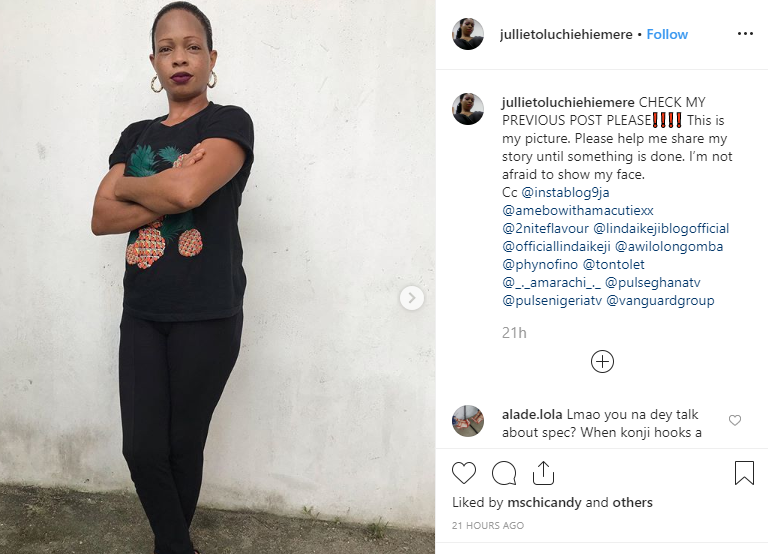 Juliet's post has gone viral, but Flavour is yet to make any comments on the subject raised.