Sexual Wellness Coach, Damilola Oloni Gets Called Out For Her Explanation On Consent During Sexual Intimacy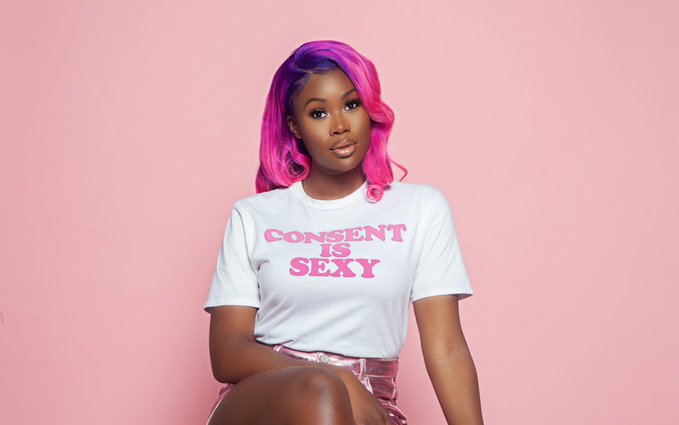 UK-based Nigerian relationship expert, Damilola Olonisakin popularly known as Oloni has caused quite a stir on social media after she took to Twitter to elaborate on the scope of consent as far as sexual intimacy is concerned. The sexual wellness ethusiast shared that consent does not end at the beginning of a sex act and that consent may be withdrawn while the act is ongoing. She advised that people check with their partners whether ir not they are comfortable while the act is ongoing.
In a series of tweets, she emphasized the importance of communication between a man and a woman, because according to her, women have gotten used to putting a man's ego before their comfort for fear of causing a misunderstanding.
She wrote:
"A lot of women put a mans ego before their discomfort out of fear because he'll be annoyed. Should we as women express this freely? Yes. But showing you care about her experience by asking questions at different points during intimacy is also important too." 

Consenting to vaginal penetration isn't consenting to being choked or anal sex. That's exactly why i say consent and communication throughout sex is vital. 

The reason why some men don't want to believe that asking a woman for consent to perform differently sexual acts is because they're thinking about times they haven't and gotten away with it.
READ ALSO: Singer, Kingsley Okonkwo, Kcee, Shares Tips On How To Earn A Woman's Consent For Sex But Many People Think He Goofed
While Oloni's point is clear enough, quite a number of Twitter users, mostly male appeared to deliberately choose to misunderstand her points. Opinions are divided as to whether consent is absolute.
See some of the reactions:
https://twitter.com/TomyyO_/status/1201959746804355072
Oloni's point is not hard to understand.
Consent before and during sex!
Consent during sex could be a genuine "Are you okay?" , "is this comfortable?"…. if you feel or notice they're uncomfortable "do you want me to stop?".
Learn and stop turning everything into a virtual riot!

— Edgar Allan Hoe. They/Them/Theydy (@THETemmieOvwasa) December 4, 2019
The Oloni thread has nothing to do with Anything. Is very simple. You guys just don't want to accept that a girl can actually change her mind when you guys are already getting down. That you have CUM or not is irrelevant at the moment. Respect yourself!!

— FRIDAY LAWANI💎 (@LAWANI_FRIDAY) December 4, 2019
Oloni, man to man, how many times have you asked a guy while riding them if they like it, if you should carry on, if they are in pain, if they need to rest, if they need a bathroom break?

He who wants to stop should withdraw their consent and let the other follow suit. https://t.co/Az8CB9XLdk

— Adeniyi (@niggazoid) December 3, 2019