Brave Woman, Doreen Moraa Moracha Opens Up On Living With HIV, Survival | Shares Some Advice With HIV+ Parents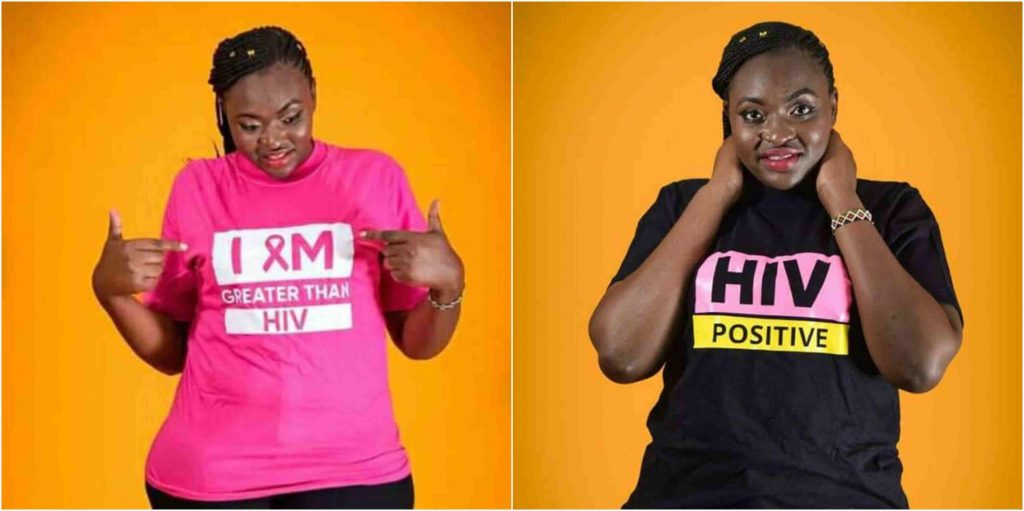 27-year-old brave Doreen Moraa Moracha is an HIV Positive Advocate who was born with the virus. Doreen's parents discovered her status when she was eight years old and she knew about her status when she was thirteen years old.
The Kenyan woman was born to an HIV discordant couple (Mother is positive and father is negative). She is the third born and her three other siblings are negative.
Interestingly, Doreen is open about her status not because of the pity but in her own words 'One day, I want someone to look at me and say because of you, I did not give up.'
In 2015, Doreen Moraa went public with her status via a Facebook post and since then, she has been an HIV Positive advocate using several national, continental and global platforms to talk about HIV in all its ramifications. She has taken part in and still taking part in several international campaigns.
During a just-concluded ICASA (International Conference on AIDS and STIs in Africa; which held in Kigali, Rwanda from Monday, 2nd December to Saturday, 7th December 2019; Doreen granted Dolapo Aina an interview where she spoke about living with HIV and survival.
Read the excerpts below…
What brings you to ICASA (International Conference on AIDS and STIs in Africa)?
I came to attend the ICASA Conference. Get more insights; add some inputs and get more in-depth knowledge about the AIDS-Free Africa theme.
What made you become an HIV Positive Advocate and why are you in the HIV advocacy part of things?
What made me become an advocate was primarily because of the stigma related to HIV that I faced as a person living with HIV. And also, I decided to use my story to create awareness; create awareness about the inherent stigma and basically just give awareness to HIV.
READ ALSO: Janet Arinaitwe Answers 10 Questions On Being A Mom-Of-Three Living With HIV
How long have you been an HIV Positive Advocate?
I began advocating in 2015.

To get you right, you're an HIV Positive person. If you don't mind answering, how did that come about?
I was born with HIV and I am 27 years old.
How has the journey being?
It has been good, bad, ugly but God is faithful.
What is your typical day like?
I don't think I have a typical day. My place of work is a shift system and I work on a shift basis. So, basically, I don't have a typical day because with every shift comes a different schedule.
What is a virus suppressant or virus suppression and how have you been coping with your status?
Virus suppression is basically about taking your (Anti Retro Viral) ARVs; so that the amount of virus in the body is not mutating or replicating itself in your body. All this would happen if one takes the ARVs faithfully.
What global HIV advocacy organisations are you affiliated with?
I am connected with the United Nations Women Beijing plus 25 task force. Also, I am working with World Health Organisation Africa on an initiative called 'Tea on HIV' which was launched recently. I am one of the six African youth profiled by WHO Africa.
I recollect you informing me that there was a period you didn't take your drugs for two years (due to trying traditional methods) and you had a relapse. With your status, what is a typical day like pertaining to taking your drugs?
I take my drugs daily at 10 pm (and I just take one pill). And it is important to stick to your drugs as a person living with HIV because that is the only way you are going to control the HIV virus.
Because as you know, the HIV virus mutates, it grows, it replicates itself in the body. And sometimes, when one fails to take his or her medication; it can end up causing drug resistance and can become drug-resistant. That is very important to stay adherent.
When I stopped taking my ARVs; I got what is called treatment fatigue. As much as people say when you take your drugs, you get used to it; it would get to a point you would not just get used to taking your drugs daily.
SEE ALSO: HIV+ Mom-Of-2, Phenny Awiti Recounts How She Discovered Her Status And What Happened After Is Heart-Breaking
Considering your status what has been driving you to do the advocacy? What has been keeping you alive? What has been giving you hope?
Doing my advocacy work; what actually gives me hope is that I get to wake up and encourage people out there who are still suffering from self-stigma; who still have disclosure issues; some who are actually afraid of knowing their HIV status; some who know their HIV status but afraid of starting their medication. So, that gives me the hope that if I am encouraging someone out there to use me as an example in their daily life. It keeps me going.
Do you live your life considering your status?
I do live my life. My status does not define me.
What are your goals and ambitions?
I want to be remembered. I want to be an icon in this generation that at least I created change; I was a beacon of hope in my generation.
In a recent Facebook post, Doreen demystifies some myths and misconceptions around HIV/ AIDs:
1. People with Blood group O are immune to HIV… That is a big lie,blood group has not been found to have any effect on HIV/AIDS
2. Not everyone who is HIV positive will infect you:HIV is a much less infectious virus than many other sexually transmitted infections (STI's).Even without a condom, the risk for becoming infected varies depending on many factors.
These include the type of exposure you have, whether the other person who is HIV positive, how high or low their viral load is etc.If the partner is HIV positive, then viral load is the most important factor.

3.Not everyone who is using medication will have undetected viral load, it depends on your medication adherence.Strict adherence to antiretroviral therapy (ART) is key to sustained HIV suppression, reduced risk of drug resistance, improved overall health, quality of life, and survival,as well as decreased risk of HIV transmission.
SEE ALSO: 'My mom died without telling me I had HIV' – Activist, Brian Omondi Narrates His HeartbreakingStory
Sharing some advice with parents living with the virus, she wrote:
As a parent living with HIV, Disclosing to your kids is really important. It's not about them supporting you. It's all about helping them to know and understand what living with HIV really means.

They might see you happy and slaying but deep down you are dealing with issues of stigma and discrimination, disclosure, rejection and it's really not just a walk in the park.

They have to know that risky lifestyle is not the way. They have to protect themselves from HIV no matter what.And they shouldn't walk the path that you have walked.
#importanceofdisclosure