10 Nigerians Share Their Opinions On How Long Should In-laws Stay With A Newly Wedded Couple?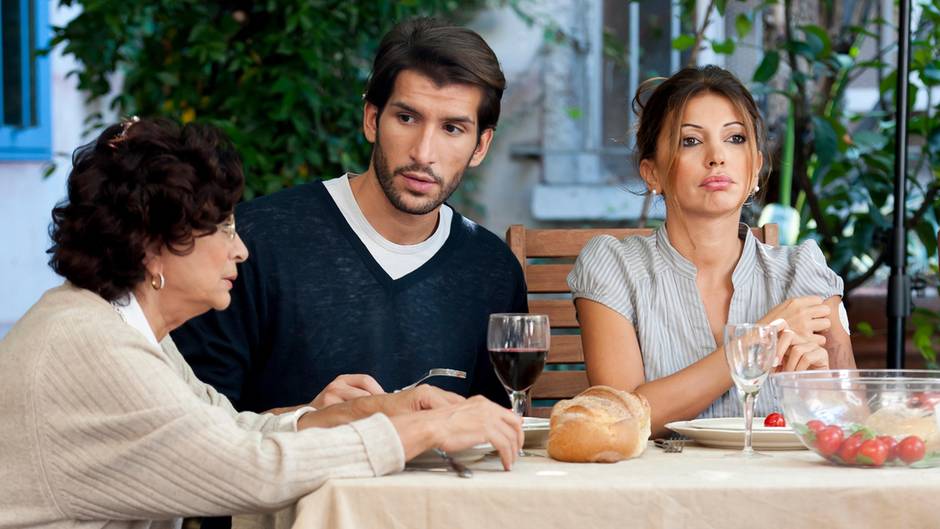 It's no news that marriage in Nigeria is culturally seen as a union of the couple and their respective families, so, it is not strange to find in-laws and relatives moving in with the newly wedded couple after the wedding day. When I stumbled on this question, I was already boiling within me.
Immediately after my wedding, my mother in-laws' siblings with their children went home with me and hubby. They spent two to three days with us before leaving. It didn't end there. My mom in-law refused to leave with them.
She stayed with us until it became unbearable for me and hubby. It took serious prayers and God's intervention before she left. From my bitter experience, it is never ideal for anyone to stay with a young couple unless the need arises or they (the couple) called for it.
Saturday Punch asked ten Nigerians how long should the in-laws stay with a young couple after their wedding and as expected, they responded differently to the question.
It's not ideal for in-laws to stay – Offor Ibrahim
I don't think it is ideal for in-laws to stay with a young couple for too long. They are supposed to give them time to cleave properly according to what the Bible says about marriage.
There has to be a practical leaving of parents and in-laws to cleave to one's spouse. A man and woman are meant to have that space for them to be able to discover each other; discover their flaws and work on them without any form of interference.
They shouldn't stay for too long – Gloria Asibor
In-laws are not supposed to stay with a young couple for too long. I think they should give them a space of one year. After one year, relatives can come around for maybe one week or two weeks.
After they have a baby and either of the mothers wants to come and take care of them, she is not supposed to spend more than three months. A new couple need their privacy for them to understand each other and plan their life together.
There's no need for anyone to stay with them – Anthonia Mathew
For a newly married couple, the in-laws are not supposed to stay with them. Like when I got married, I didn't have anybody to stay with me. The only time they came was to bring my gifts to me and they left immediately and we had our space. There is no need for anybody to stay with them; the couple need to understand each other's character, the early years of marriage is just like honeymoon.
In-laws can be too over bearing – Peace Abel
First of all, I don't think in-laws or family members for that matter should follow a new couple home. In some parts of Nigeria, it is part of their custom and tradition, so it cannot be ignored. But I feel after the first two nights, they should leave. My reasons are: The couple need privacy; the couple do not need anyone telling them how to run their home, in-laws can be so over bearing. The couple would want to explore each other without the family being around.
They should be left alone after wedding – Dayo Adeleye
Why are they coming to live with me? They should have their own house. After marriage, a couple should be left alone to build their home in peace. It's like saying my parents want to move in with me into my new home; it doesn't sound decent at all. They can come and visit and go within a very short period of time.
It depends on how financially buoyant they are – Emmanuel Wapchi
First of all, it has to do with the couple's economy. If the couple are of the lower class and they cannot afford more than a one bedroom 'self contained' as a couple, then they cannot accommodate other people.
If they are of the middle class and they are comfortable, they may be bothered about the amount of money it will cost them to feed visitors when they come over to stay at their place.
If they are of the upper class, then they are at the level of comfort in the sense that they have many rooms to spare in their house as a new couple. If there are enough rooms to accommodate them, then they can stay for as long as they want.
For the middle class, their stay is under probability because the couple may not even be able to feed them comfortably. For the lower class, even if the wife gives birth, she may have to go and stay with her mother-in-law as against the mother-in-law coming over to stay with them because their house may not be big enough to accommodate the old woman.
In-laws act as checks and balances – Taiwo Adeagbo
In-laws include your wife or husband's sisters, brothers, aunties, uncles and parents. Their stay depends on the situations and circumstances. If it is during the nursing of the infants or new born babies, the mother could stay up to five or six months, until the child is strong enough to be taken care of by her biological mother.
The other in-laws can come visiting, once in a blue moon, to see how their siblings are doing or coping with their matrimonial home. Similarly, to see the kind of care the wife is receiving from her husband, or how caring the lady is to their son (husband).
In-laws act as checks and balances in any relationship. They advise both parties on how to stay in the relationship and grow.
It depends on why they came to visit – Adewale Oluwasegun Tobiloba
I think it depends on the reason for the visit. Sometimes, relatives come around to stay with a couple because they have a job interview or an examination to attend to.
So if it's for that kind of purpose, they can stay, do whatever they come for and leave. But specifically for a young couple, it is better for their relatives to give them space before intruding. But I don't think it's proper for a relative to stay with a young couple for more than two weeks.
They can stay for a while just to guide them – Femi Solesi
In-laws can stay with a new couple for some time, at most two months just to serve as mentors and teachers to them. Marriage is a very delicate union and sometimes a new couple may not know how to handle some issues; so they may need to be guided and mentored by their parents.
READ ALSO: Relationship Expert, Samuel Chukwuma Iwar's Message To Women About In-Laws Is A Game Changer
In-laws not allowed until after five years -Akinlosotu Paul
The early stage of a marriage is very crucial. In my opinion, if the couple are not five years into the marriage, no relative should even bother visiting them. They should be able to enjoy each other's company and make their mistakes and learn from them.
You can also join the discussion and share your opinions with us!