Mixed Reactions Trail The Surprise Engagement Of BBN Sweethearts, Gedoni & Khafi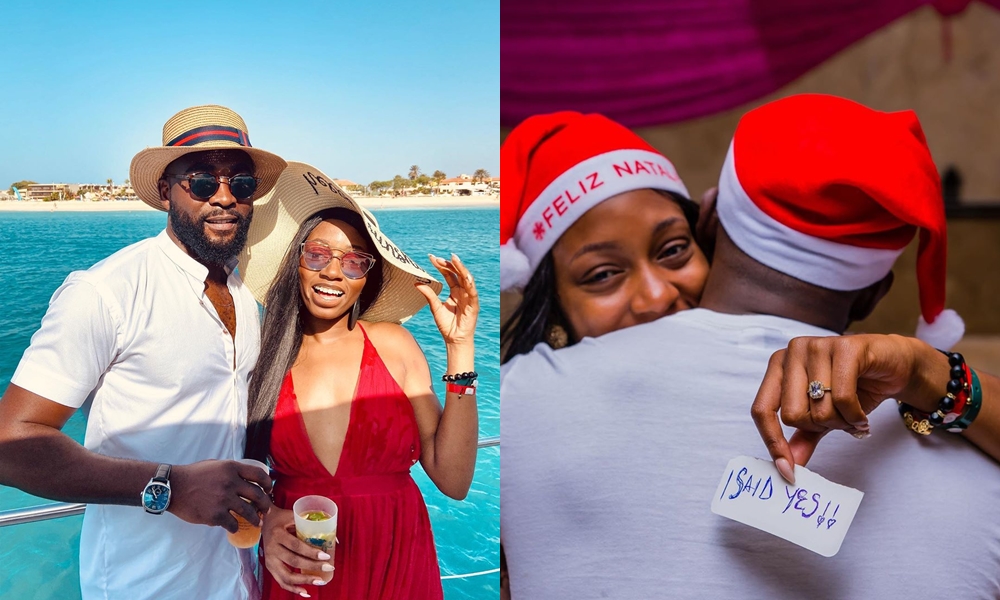 https://www.instagram.com/p/B6g8Vk_J0Xd/?igshid=tuttz0gpf4f3
For lovers of the reality Big Brother Naija show, it feels like the perfect plot-twist after Ex-BBNaija season four housemates, Khafi Kareem and Gedoni Ekpata, announced that they have just gotten engaged. The pair known as Khadoni drew fans' attention with their blossoming relationship while in the house but there were concerns that Khafi who left her job as a cop in the United Kingdom was losing sight of the prize while focusing on Gedoni who appeared to not share her romantic sentiments.
While the world over was celebrating the Christmas Day yesterday, Khafi was having a double celebration because she got engaged. The vivacious 30-year-old posted a picture of herself and Gedoni on her Instagram page @acupofkhafi and captioned it,
"I said yes. And I got the best Christmas gift ever. Mrs Ekpata loading."
Khafi and Gedoni's engagement is the second relationship between housemates to yield into something concrete, after season 3 housemates, BamBam and Teddy A tied the knots one year after hey met on the show.
READ ALSO: BBNaija's Mike Edwards Shares Tips On How Married Men Can Stay Faithful To Their Wives
The surprise engagement of Khafi to Gedoni is getting mixed reactions, with many doubting the authenticity of Gedoni's love claims as some felt it was a strategy while others vouched for the genuine connection between the couple. During his eviction interview, Gedoni reassured fans that his relationship with Khafi was beyond the show – BBnaija.
Gedoni said then that he would be open to date his co-star, Khafi, after the show ends. On her part, Khafi said she loves her partner Gedoni Ekpata and felt so much peace around him while in the BBNaija reality show.
Celebrities like other fans of the show have reacted with surprise to the news, see some of the reactions below:
Popular OAP and dad-of-two, Dotun had this to say:
"I'll be honest, I didn't like Gedoni in the house cos I thot he was a distraction to Khafi & I didn't think he liked her as such coz of a few bleeps on his side abt them both. Gedoni u are relentless & na man you be. I apologize & u made a very good choice. Khafi is a sweet girl."
Newlywed actress Kemi Lala-Akindoju also did not mince words:
"I remember my first conversation with Khafi when she came out of the Big Brother house…I celebrated everything she did in the house, but I was like 'why did you follow man'? 'He was a distraction'!!! She smiled and told me I was wrong, told me she felt she had found something that was beyond a reality show…she then said I should speak with him and assess him on my own. .
.
The first thing Gedoni told me was how much he loved Khafi and wanted to make her happy forever. Despite my many questions, he remained graceful….The rest they say is history! I know you both genuinely love each other, so I pray that your love would keep growing stronger and stronger. .
.
Congratulations to you both.
Love you both."
See Khafi's post announcing her engagement: