Actress & Mum-Of-Twins, Bukola Awoyemi Relives Her Journey To Motherhood As Well As Surviving Her High Risk Pregnancy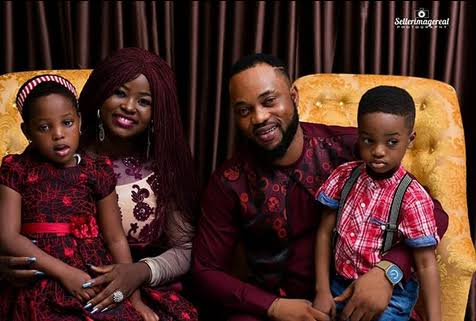 https://www.instagram.com/p/B61ZRkwHwZc/?igshid=1sr7tzdmcwbi7
Famed for her role in the blockbuster Yoruba movie,  Arugba; actress and mum, Bukola Awoyemi is celebrating her joys of motherhood. The mum-of-two married co-actor, Damola Olatunji a few years back and the couple welcomed their twin children exactly five years ago today.  Opening up on the peculiarity of her high risk pregnancy and the many fond experiences that laced the sidewalks of her life-altering journey into motherhood, Bukola penned her unreserved thoughts about how it all began five years ago.
Celebrating the birthday of her 5-year-old twins, the elated mum shared that she was too scared to hold her babies at the time of their birth because they were born preterm and looked very fragile; that she feared she could hurt them just by carrying them.
Recounting the birth experience of the twins, Bukola wrote:
"They came as premmies (premature) I was too scared to carry them cos they were pretty small, I thought my hands could hurt their fragility,

I was in tears, tears of joy, all seemed like a dream, a fairy one, super thankful to God for aunty Dupe, whose soft and very familiar voice brought me back to reality

"Bukky, carry them , they are yours" Mum US, Dad US, uncle Jide, my cousins all flooded the hospital, parents from both ends, especially my sweetest mum of blessed memory who never stopped praying, my siblings, egbon bukola, and aburo Buki, mysismylove and hawtie,

who never left us on a video call just to stay in touch, words alone can't express my gratitude to u all, gush! family love is everything. To the glory of GOD ALMIGHTY, Motherhood journey began 3rd January 2015…..
READ ALSO: Comedian, Bovi Ugboma, Reflect On The Birth Story His First Child, David As Her Turns 10
Speaking on the challenges kf nurding two bsbues at a time, the obviously fulfilled mum shared in another post that it was a trying time. She wrote:
"5 years ago, my journey to motherhood began, I started to learn how to do things in twos, breastfeeding two, feed bottling two, washing , bathing , carrying two , changing diapers for two, potty training two, buying in twos ,

it was a life changing experience, getting them on the airplane was work all through, stood almost all through our journey to Nigeria ,

one clasped on my back and watching d other in the bassinet , yes , I had many onlookers , watching me back my baby in the African way on the airplane plane , but who cares?

As long as I have my joy intact, bouncing and doing just fine. I pray for all mothers , we shall not labour in vain, we will not bury our children, aspiring mothers, hear the word of the living GOD, 2020, u shall laugh out loud, u shall carry your own babies, your mockers shall be put to shame in d MIGHTY name of JESUS CHRIST AMEN"
Another post read:
"HALLELUJAH, 5years ago, they came, despite all, we came, we saw, we conquered. I had hot tears streaming down my face , I couldn't believe I had become a mother , not of one but of two at a time,

I had always wanted twins , I had called my self "mama ibeji" even before I ever thought I would be pregnant in life, the sight of them brought tears of joy to my tired face,

I saw the manifestation of making consistent positive , prophetic words into one's life , so today I prophesy into the lives of intending mothers, that the Lord GOD ALMIGHTY who made mine possible will do yours this very 2020 in JESUS MIGHTY name AMEN"
And concluding in a final post, she wrote:
"Few minutes to 5years ago, i was told my pregnancy was high risk, everyone was scared, I was placed on bed rest and kept on close monitoring,

I waited patiently at the hospital for the arrival of my God given twins , nothing could be compared to the anxiety that comes with having to wait to see some little -great glories wrapped up in your belly, the suspense is undescribable, being left to different imaginations of what they would look like , who they would look like and so on and so forth …

This experience was /is one of the greatest experience of my life"
See her post: