Update On The Flesh Eating Mother and Son Duo Of A LASU Student: Bola Adeeko Throws Her Son Under The Bus | VIDEO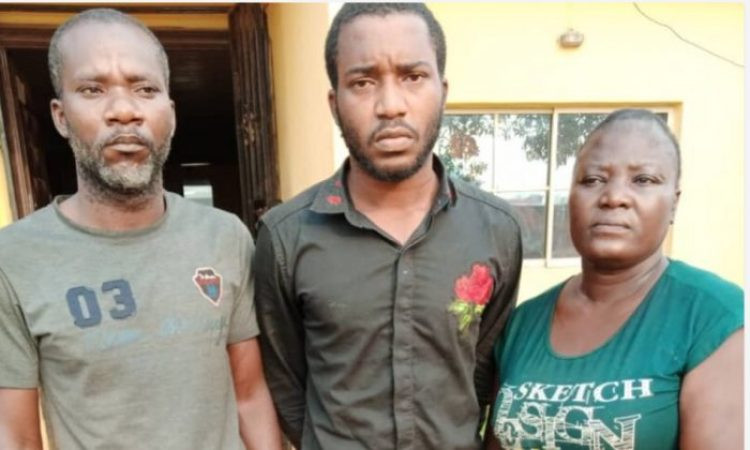 https://www.instagram.com/p/B63HPIdHLRI/?igshid=1tssxbh3kpio0
More revelations have emerged on the gruesome killing of 22-year-old Favour Seun Daley-Oladele who was killed by her boyfriend, Owolabi Adeeko.
In a new video making the rounds, Mrs Bola Adeeko, mother of Owolabi Adeeko who was reported to have worked with her son and another accomplice to kill and eat body parts of the deceased 22-year-old  final year student of the Lagos State University, has shared her own side of the story.
In sharing her own side, Adeeko wasted no time in blaming her son, and claiming that he deceived her, exonerating herself of any wrongdoing.
Bola, who was  answering questions posed to her by an interrogator in police premises revealed that she earns a living decorating schools but that her husband is without a job. According to the mum who appeared a little too calm for the gravity of crime involved, she approached the third suspect, Pastor Segun Philip for prayers over the hardship she has been experiencing in her family. Mrs Adeeko disclosed that after a brief session with the pastor, she was given a soap to bathe with and told she would have a dream that would reveal the next step that would liberate her from hardship and launch her into prosperity.
READ ALSO: Alleged Cannibal, Owolabi Adeeko, Gives Chilling Account Of How He Connived With His Mother To Kill His Girlfriend and Eat Her Heart In A Money Ritual Quest
From then on, the fate of late Favour was sealed in a selfish quest but Bola insists in her confession that she had no knowledge that what she ate was human flesh or that the soap she bathed with was prepared using parts of the murdered young woman. She wasted no time in throwing her co-suspect and only son under the bus, alleging that he blindsided her by killing the victim and colluding with Phillip to make her eat and bathe with human remains.
Watch the video below: