How Two Thoughtful Young Daughters Brightened Their Mum's Day After Complaining She Was Tired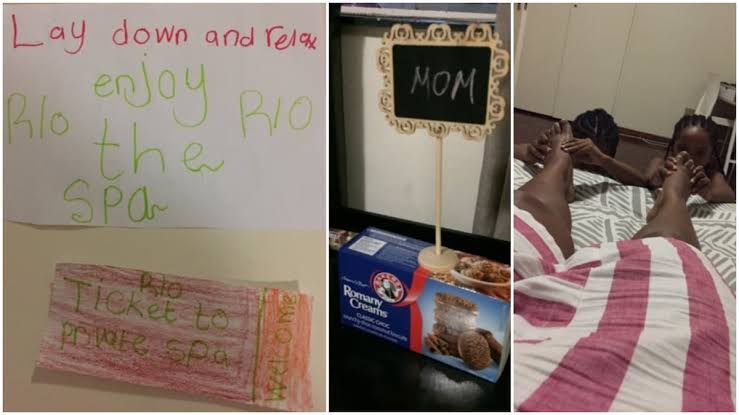 https://twitter.com/ms_nits/status/1214237635511754752
A South African mum has melted the hearts of many social media users after she took to Twitter to share how her thoughtful young daughters attempted to brighten her day when she complained about being tired. The mum-of-two, in a Twitter thread said she mentioned to her first daughter that she was tired and didn't sleep well.
Hours later, when she returned from work, her daughters had planned a surprise 'spa' experience for her.
The mum, @mis_nits said she nearly ruined it all, after she became overcome with emotions by their gesture. They treated her to some spa music, feet massage and her favourite biscuits.
READ ALSO: Thoughtful Dad, Kendall Caver Endears Himself To Internet Users After His Ingenious Gesture To Encourage His Pregnant Wife Through Labour Went Viral 
"You guys!! My children are amazing beings. Earlier while chatting to K I told her I was tired and didn't sleep well. I came home to my own very spa it has spa music and everything and my fav biscuits. Yhu omg,

K remembered I don't like my feet touched/tickled. 'We going to massage your feet now, don't jump' Best Spa

Nini was worried that we don't have champagne,,'no champagne darling' no dull day in this house."
She wrote.
In another post, the young mum wrote:
"Thank you for all the kind words here. I nearly ruined the whole thing cause I cried and they thought I was sad. Anyway, we haven'tbeen to a spa before and I think the three of us deserve a girls day out."
See the original post: