Former Actress, Dolly Unachukwu Shares Weight Loss Tips As She Makes The Big Reveal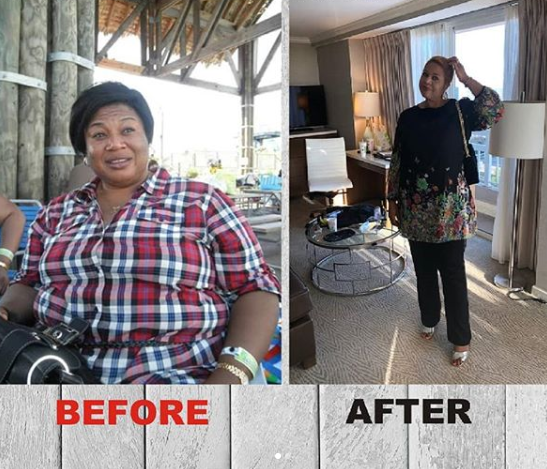 https://www.instagram.com/p/B7YUbI8Hwyj/
Former Nollywood actress and mum-of-two, Dolly Unachukwu, has made the big reveal of the result of her weight loss journey by sharing before and after photos of herself. The 50-year-old took to her Instagram handle to share her progress photos as well as weight loss tips.
According to Unachukwu, adopting a positive outlook on the task ahead makes the journey easier. She wanted people to know that, they aren't fat, they just have fat that they want to shed.
READ ALSO: British Singer & Mum, Adele Laurie, Sparks Public Concern Over Her Dramatic Weight Loss
She also shared that there's a difference between being fat and being big. According to her, she was both but had no desire to be either, so she set to work.
She added that weight loss isn't fun but people should also remember that it doesn't have to be hell as well.
"You want to know the truth? At a point, I wasn't only fat but big. 
Maybe, sometimes, a difference exists between being fat and being big . I didn't wan't fat neither did I want "big".

Before you start embarking on the weight loss journey, it is important for you to remember this: YOU ARE NOT FAT; YOU ONLY HAVE FAT.

So, think about weight loss not as a burden or pain, but a task to be doggedly accomplished.  To tell you the truth, slimming down isn't fun but it doesn't have to be hell.

I should give you some tips in my subsequent posts. Before then, you can take this as my throwback picture''
she wrote.
See her original post: