First Time Mum, TBoss, Who Couldn't Lactate Immediately Writes About Her Breastfeeding Experience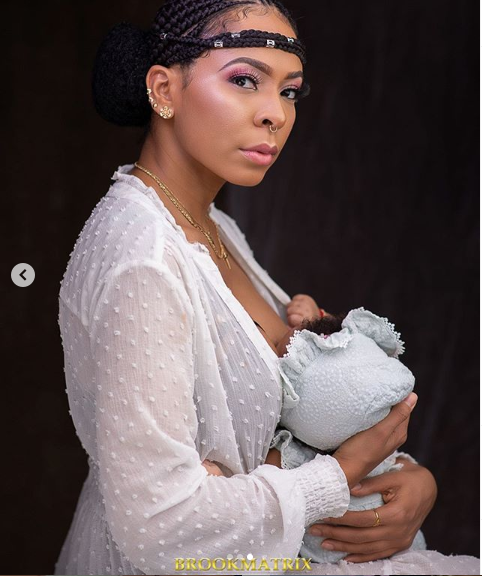 https://www.instagram.com/p/B8dorsAFziJ/
According to first time mum and former BBN housemate, Tokunbo Idowu aka TBoss, everything about motherhood is amazing but breastfeeding her little one feels nothing short of a 'spiritual magic', if any such term exists.
The proud mum revealed that she did not always look forward to breastfeeding, saying she read many books and blog articles on pregnancy and motherhood, and that the most dreaded of her impending roles at the time was breastfeeding, but since she started nursing her daughter, all that has changed and she's not exactly looking forward to weaning her child.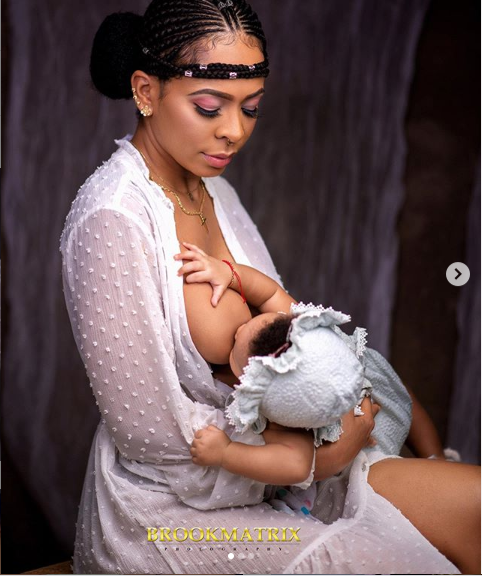 READ ALSO:Ex-BBN Housemate, Tboss Confirms She Just Had A Baby, Explains Why She Chose To Walk The Path To Motherhood In Silence
Taking to Instagram to share beautiful photos of herself breastfeeding her daughter, Tboss recalled how she almost got depressed when she couldn't lactate for weeks until one 'Beautiful Day' she discovered she had milk.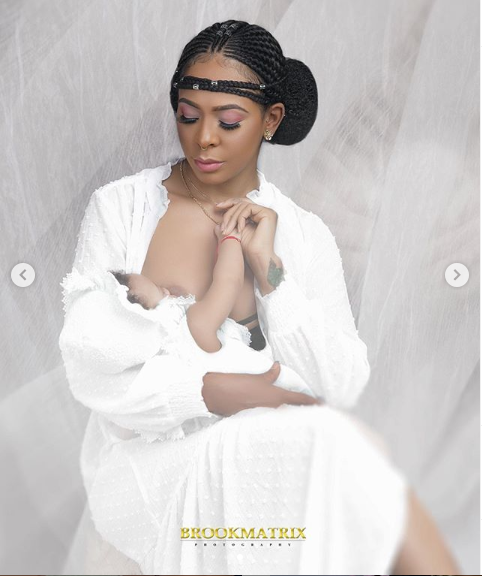 Read her full post below:
Let's talk Breastfeeding.
When I was pregnant I read a lot. I was glued to Google & all the mommy blogs, pages, books. I even finally braved watching a couple of birthing clips. That was a hard one.

But what Genuinely Freaked the heck outta me was Breastfeeding. The thought of it alone gave me sleepless nights. No Jokes. After having my daughter I didn't lactate until a couple of weeks afterwards. I almost got depressed.

I did EVERYTHING. I ate everything & drank everything they advised until one Beautiful Day I had milk. Words cannot explain how Happy I was & now! Well, Now my Mother calls me "Vacuta Vesela"🙈😆. I LOVE to Breastfeed my child, It's my favorite Mommie & Baby time.

It creates a form of Bonding that's nothing short of Spiritually Magical if such a thing even exists. The way she holds unto me, looks into my eyes whilst she suckles & smiles at me ☺️. I feel the Most Powerful when I'm breastfeeding .

I honestly dread the day that I would have to stop.
@amaarray Thank you for the Pap you made for me to trigger my milk- it finally worked.


Miss N- this story wouldn't be complete without mentioning you & how you taught me how to boob my daughter & all the things you gave me to make Boobietime painless & comfortable for me.
@simplysorrentino always encouraging me not to give up & just relaxxxx


@fair_princess thank you for recommending them lactating cookies- I couldn't stand the smell but they tasted good & they Worked.


God bless you ladies💋
Mommies in the house: Please share your Boobie Time stories with us🙏🏽
See her original post: