Meet Exceptional 10-Year-Old Programmer & IT Activist, Joshua Agboola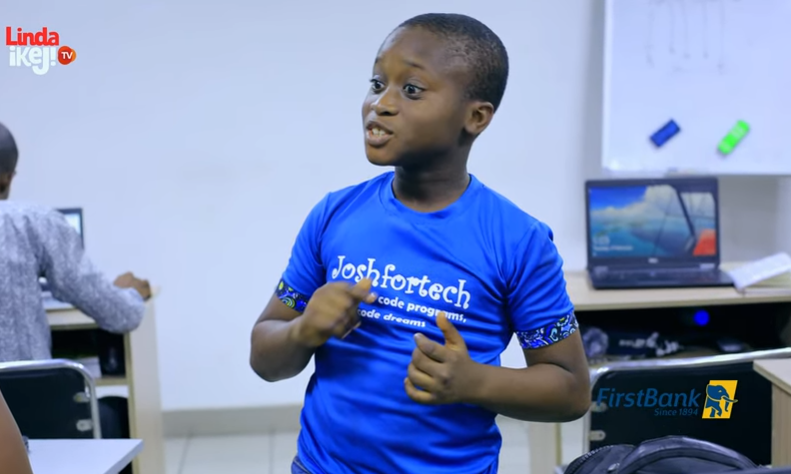 Joshua Agboola who is only 10 years old is the CEO of JoshForTech. He is also a software engineer, programmer, Future Skills Activist, and a well sought after speaker at tech summits. Joshua in an interview with Linda Ikeji TV revealed that he started coding at the age of 6 and has built competence in several programming languages.
He broke a record by becoming the youngest speaker to present at a technology talk at the ICTel Expo of the Lagos Chambers of Commerce and Industry in July 2019. He was also the youngest to speak at TechPoint Inspire.
READ ALSO: Damilare King-David Akano Is Africa's Youngest Microsoft Specialist At 6-Year-Old
His interest in tech began when he was almost 6, thanks to his father, an engineer. His father sent him to an Academy for summer school with his elder sister. However, the school said he was too young for the existing curriculum, so his father drafted a curriculum for him and he surpassed expectations.
Narrating how he helped his son along on his journey, Mr Agboola said that after his son surpassed the curriculum he set for him, he took him to CCHub where they got him into some programs. His father noticed he was always ahead of his class in CCHub so his father took him home, created a curriculum for him, invested in books and online tutorials, then got help from mentors.
This paid off as Joshua has now become one of the finest young software engineers in Nigeria. He has built a number of games, a healthcare app, and a few websites.
Watch the interview below: