"Her twins are crying"- Actress, Uche Elendu Pleads For The Release Of Celebrity Mum, Funke Akindele From Police Custody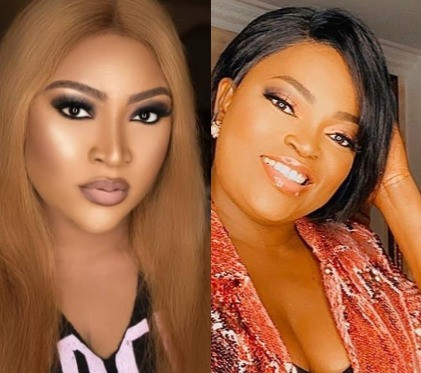 Actress Uche Elendu has appealed to the Lagos state government and the police to release her colleague, Funke Akindele-Bello, for the sake of her twins. Funke Akindele was arrested yesterday by men of the Lagos State police command after she shunned the government's directive of social distancing at this critical time.
The mum-of-two held a birthday party for her hubby, Abdulrasheed Bello aka JJC Skillz at their Lagos home, having in attendance a number of people that clearly flouted the safety instructions the government has put in place at this delicate time.
READ ALSO: COVID 19: Actress/ Mum-Of-Two, Funke Akindele Bello Arrested For Flouting FG'S Social Distancing Order
Now, actress and mum-of-two, Uche Elendu is calling on the authorities to release the actress saying her twin boys are in distress and are crying.
In a post shared on her Instagram page, she wrote:
Please release her i dont have any excuses to make for her cos the law is simple, No Social gathering !!!! but her humble and sweet spirit doesnt deserve this arrest…We are Sorry on her behalf please @jidesanwoolu @balaelkana
She explained and apologised please listen and forgive, at least people ate food at the party, the people that clustered people to share 2 packs of indomie in the name of Quarantine relief were not arrested, Please Forgive her #freefunkeakindele
Nigerians pls the same way you got her arrested through social media pls beg them to release her, her twins r crying#stayathome
See the original post:
https://www.instagram.com/p/B-odtcsHGVx/